Castlefield: What To Do In Manchester's Canal Basin
A great place to go on a Manchester summer afternoon is Castlefield. Situated at the southern end of Deansgate, Castlefield is a great spot for a few drinks and some lunch. The area sits in the city's historic canal basin where converted warehouses are now home to apartments, restaurants and bars.
As local travel experts based here in Manchester, we're always keen for visitors to explore more of this fascinating, diverse city. That's why we lead food tours in Manchester! We love to show off the incredible variety of cuisines and cultures that make up the heart of the city.
If you're looking for local things to do in Manchester and wanting to explore more of the real city, we'd love to show you around. For now, learn a bit more about the Castlefield area. Then you can plan your trip to Manchester and feel like a local.
A History Of Castlefield
Castlefield was the centrepoint of Manchester's earliest beginnings. A Roman fort was built here around 79AD and from this springs the city we know and love today. The name Castlefield itself represents the fort (castle) which was then surrounded by farmland (i.e. the field).
We've already explained what the people of Manchester are called, but it's these very Roman origins that give us the word we still use today for a person from Manchester: Mancunian.
Walking down Liverpool Road, you can see the ruins of Mamucium (the Roman name for Manchester) opposite the Science and Industry Museum. But ancient Roman ties isn't the only historically significant part of the area's story; in fact, Castlefield has remained at the heart of Manchester across the centuries.
A village developed and flourished in the area throughout the middle ages. Then, during the Industrial Revolution, the Bridgewater Canal, the world's first industrial canal, arrived in Castlefield. This area was the at very epicentre of the industrialisation of Britain, a process of change that would have a global impact.
Liverpool Road was also the site of the world's first passenger train service. In the 1830s, the route between Manchester and Liverpool opened here.
Sadly, after the boom years of the Industrial Revolution, Castlefield was to endure a period of neglect. The old warehouses and canals were left to ruin.
It wasn't until the late 1980s that life started to be breathed back into the area. Enterprising developers began to buy land around the canal basin. Soon, the old warehouses were turning into trendy flats and bars. The canals were cleaned up, and now it is common to see fish, ducks and other wildlife enjoying them.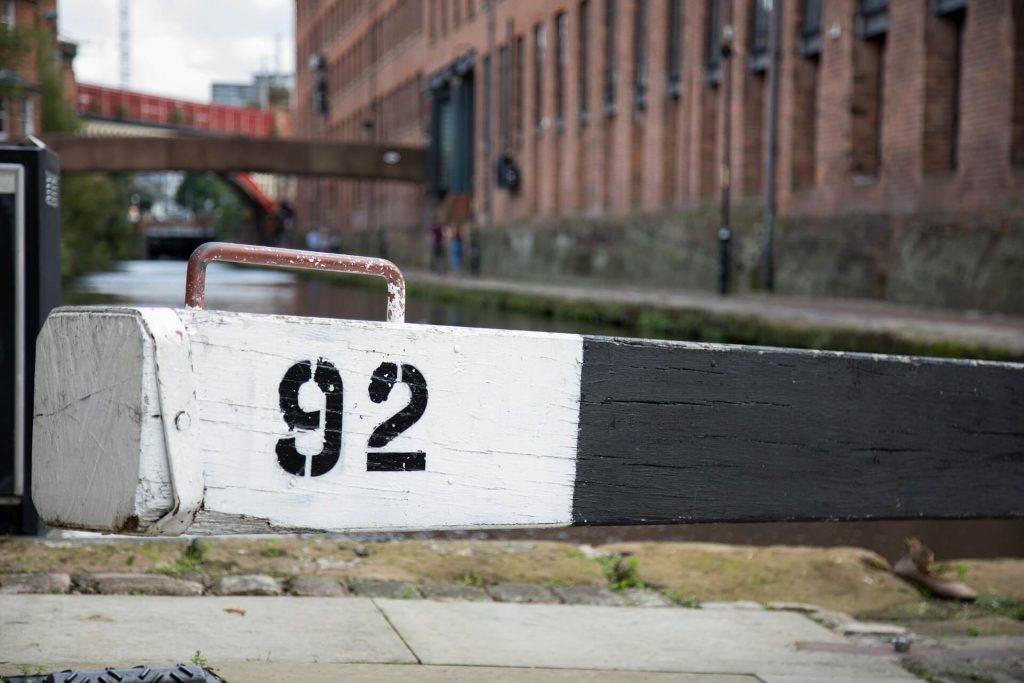 Things to Do in Castlefield Today
Castlefield is a hive of activity these days. The area around Liverpool Road is where you'll find the Science and Industry Museum and the old Roman Fort. We included the museum in our list of the best places to visit in Manchester, but there are loads more recommendations there for you to enjoy!
There is also a great bar near Castlefield called Cask, which has a fantastic array of craft beers to enjoy. Further towards the canal, you'll find the Castlefield Bowl. This outdoor arena has a capacity of 8,500 and is excellent for live music.
Around the canal itself, there is a bar called Dukes 92. The name comes from the bar being housed in a converted warehouse next to the 92nd lock on the Bridgewater Canal. During the summer months, the huge outdoor space is full of Mancunians soaking in the sun with a few cold beers.
When visiting Manchester, take a walk around the basin in Castlefield. There, you'll be sure to find some great photo opportunities and excellent people-watching.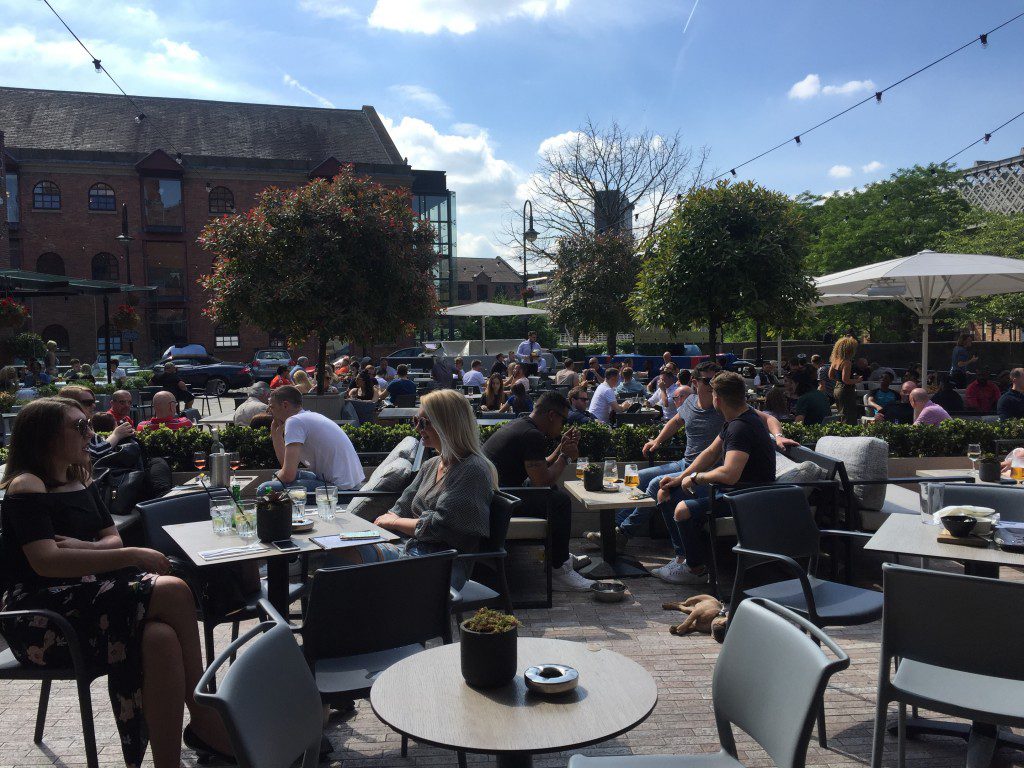 How to Get to Castlefield in Manchester
Castlefield is straightforward to find once you're in Manchester. You can get the tram to the Deansgate – Castlefield stop and then make the 1-minute walk to get there.
It doesn't get much more convenient than that!
If you'd like to explore Manchester in a unique way, come and join one of our food tours at Manchester Bites. We love to tell the tales of the communities that built this great city. And, of course, we taste some of our favourite dishes along the way. If you have any questions about our tours or about Manchester, feel free to get in touch!
This article was originally written in August 2020 and updated in February 2022.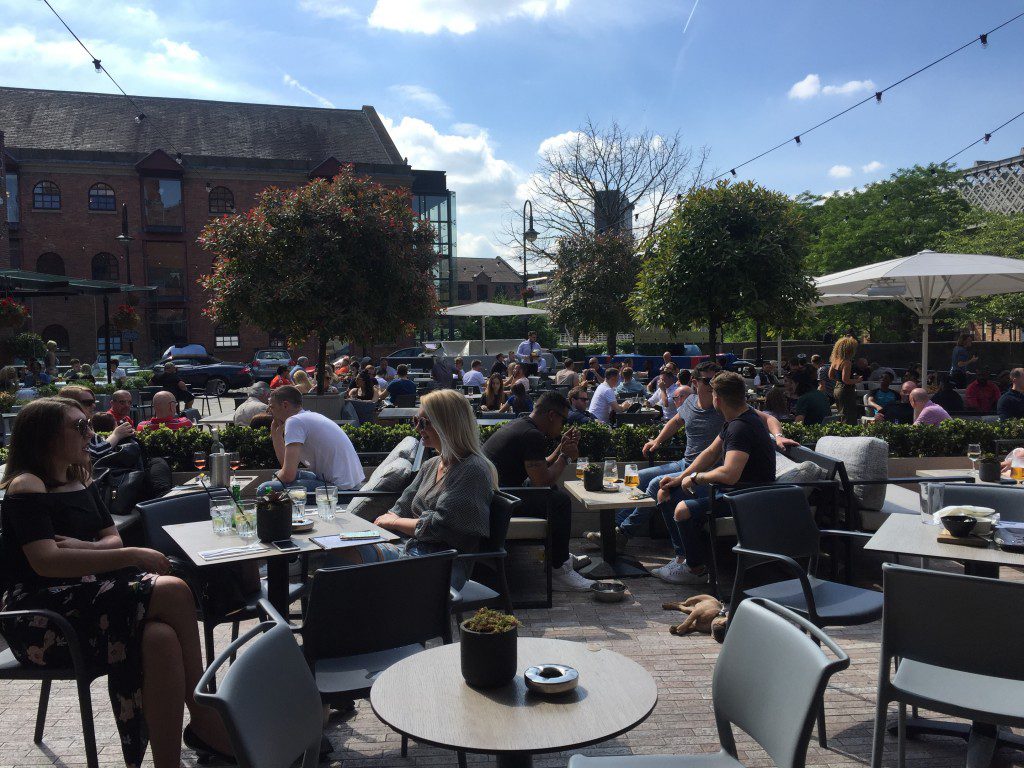 The Manchester Egg: A Manchester Food Innovation
At Manchester Bites, we naturally like to talk about Mancunian food innovations. One such dish is, of course, the Manchester Egg. Never one to be left on the sidelines when something good happens, Manchester has developed its own savoury egg snack, a spin-off of the more famous Scotch egg.
If you like learning about the origins of different foods and the various cultural influences that impact our cuisine, you would love our Manchester food tours! Come join us for a walking tour of the city. You'll learn about the different people and places that have helped create the eclectic food scene we enjoy today.

What exactly is a Manchester egg?
Let's just jump right into it: A Manchester egg is a pickled egg wrapped in pork meat and black pudding (another Manchester favourite!). The egg is then dipped in breadcrumbs and fried. It's served warm, generally as a pub snack.
If you haven't yet tried a Manchester egg, then you'll need to seek one out during your visit to our fun city! You'll find them quite easily. But if you want to know where to find the best Manchester egg, then you really do have to ask the locals.
When we get talking about local foodie favourites, we just don't stop! So come join one of our tours to learn more about the city and to ask our expert foodie guides about the best places to try a Manchester egg…or any other foods you want to try here in the city!
The Story Behind the Egg
As with many great foodstuffs, the story of the Manchester egg begins in a pub.
A Mancunian called Ben Holden was enjoying a few pints with his mates in The Castle Hotel pub on Oldham Street. As we all often do, Ben enjoyed a few snacks to go along with his pint. His choice on this occasion: a pickled egg, a scotch egg, and a packet of salt and vinegar crisps.
It was then that the (glorious) idea hit Ben. What if he could create a hybrid of his three favourite snacks?
Well, Ben being true to his roots and being an industrious sort of lad, took off to the kitchen, and before long, he had perfected the original Manchester Egg.
We like to imagine Ben shed a prideful tear when he hit upon the recipe, then took himself out for a few celebratory pints.
A few weeks later, the egg was introduced to the regulars at The Castle. The dish was an instant success (Mancunians being people of discerning taste). Ben was quickly selling no fewer than 30 eggs a week. He knew he needed to get some help to satisfy demand.
At this point, Ben persuaded a local chef to lend him some kitchen space, and the eggs began to be made in larger and larger batches. Ben had cemented his place in the prestigious ranks of great Manchester innovators. And we certainly have our fair share since the industrial revolution started in Manchester!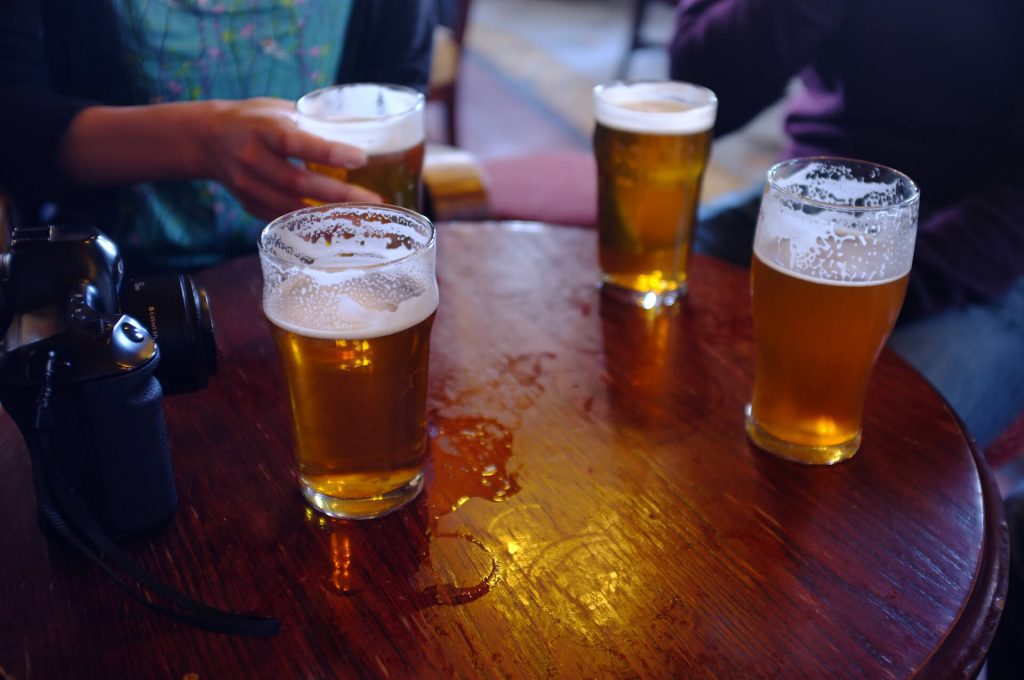 How to Make a Manchester Egg
While we do claim to be experts in all things Manchester food scene, that doesn't mean that we ourselves are chefs. In fact, we have great respect for the art and science that go into excellent cooking!
That said, we all like to dabble in the kitchen. So here's a Manchester egg recipe we found in The Independent that looks to hold fairly true. Of course, you'll have to be the judge yourself after you make it!
Mr Holden's Famous Manchester Egg
Makes 5
300g premium sausage meat
200g Bury black pudding
5 free-range pickled eggs (ideally pickle your own, but shop-bought work just fine)
Japanese panko breadcrumbs (from the Chinese supermarket or easily ordered online)
Salt and pepper
Beaten egg
Vegetable oil for frying
First, take the Bury black pudding and the premium sausage meat and remove the skin. Mix them together at a ratio of 60-40 (as per measurements above) with your hands (you have to boil the black pudding for a minute to soften it up; alternatively, ask your friendly local butcher to grind them together for you).
Next, wrap the mix around a pickled egg. The best technique is to flatten the mixture into a patty about 12cm in diameter and place the egg in the middle. Then fold the mix up around the egg.
I find Pandora's is the best pickled egg brand you can get from the supermarket – and the right amount of mix is around 100g per egg. Roll the mix into a perfect ball around the egg.
You then dip into the egg mix and roll it in the breadcrumb. (I also add a secret blend of my own Mr Holden's spice mix into the crumb. I can't tell you what the ingredients are, but have an experiment with spicing it up a bit. You can't go too wrong by just making sure the crumb has a good amount of top-quality sea salt and freshly cracked black pepper added).
Press down to make sure as much crumb is coating the egg as possible. For extra crunch, try double-dipping in egg and crumb for a really substantial bite.
Deep fry at 170C for 7-8 minutes and give it a moment or two to cool before tucking in.
Easy peasy.
Learn Manchester's Story Through Food
The Manchester egg is just one example of the many culinary delights you can thank our fine city for sharing with the world. There are plenty of things Manchester is famous for, including being a leader in the UK vegetarianism movement!
We love the Manchester egg, but our diversity of tastes and culinary preferences is as wide as the diversity of our people.
If you'd like to learn more about Manchester and its fantastic food scene, join us on a food tour. We love to share the hidden Manchester that's too often overlooked. We showcase our local food heroes and the stories behind the people that feed the city. Come join us!

This article was originally written in August 2020 and updated in February 2022.
What Is Manchester Famous For?
Manchester is one of the UK's most widely known and well-loved cities. Having been one of the engine rooms of Britain's industrial revolution, given birth to countless artists and musicians, and produced a staggering 25 Nobel Prize laureates, Manchester's historical significance is firmly established. However, the creativity at the heart of so much of Manchester's story continues to flourish today. Manchester is a beautiful blend of tradition and innovation, possessing a vitality that means lists like this one will surely get longer with each passing decade. That being said, as proud Mancunians, we'll take any opportunity to discuss the things that make Manchester special, so please join us for some of the things that made, and continue to make, Manchester famous. And while you're here, you may want to browse our Manchester Food Tour — From Canals to Canapés, which gives a history of our city through 10 tastings and explores a couple of the city's coolest areas. 
Creativity
Manchester has long been established as a cultural hub, a city that seems to speak to the creativity in its citizens and inspire collaboration. One need only take a cursory look at a history of the city's music scene to appreciate just how many world-famous musicians the city has produced: Joy Division and New Order, The Smiths, The Stone Roses, Oasis, Elbow… The list goes on, and we're pleased to say new bands are forming all the time. Art lovers, meanwhile, have long associated Manchester with the work of LS Lowry, who lived for many years in Salford. Today, Manchester is home to The Lowry, a museum and exhibition space dedicated to his inimitable paintings. And to see this famous creativity on display today, visitors should head over to the Manchester Craft and Design Centre. Housed in a Victorian former fish market, the Craft and Design Centre has been nurturing creative talent and businesses since 1982. We wrote a blog dedicated to the centre here. Whatever your own creative passions, Manchester is a city that will inspire.
Culinary Diversity
We could talk at length about Manchester's long and proud history of liberalism, openness, and tolerance and some of the famous trail blazers the city has produced like Emmeline Pankhurst and Alan Turing, but, given our tours' focus on Manchester's food scene, let us mention in particular the diversity that shines through Manchester cuisine, which provides a fine glimpse into the 21st century fabric of the city. Surveys indicate that around 200 languages are spoken in Manchester today. The city continues to flourish as a multicultural population as it has done historically when Irish, Caribbean, and Asian communities came to call Manchester home. The city's food culture celebrates this cultural brew and diners have available to them a veritable world atlas of flavours (the Manchester Evening News were even able to compile an A to Z country list of Manchester dining possibilities, from Armenia to Zimbabwe!). From the Curry Mile to the 2nd largest Chinatown in the UK, award-winning sushi to Mexican street food, Manchester today is known far and wide for a food culture diverse enough to rival any other city.
Football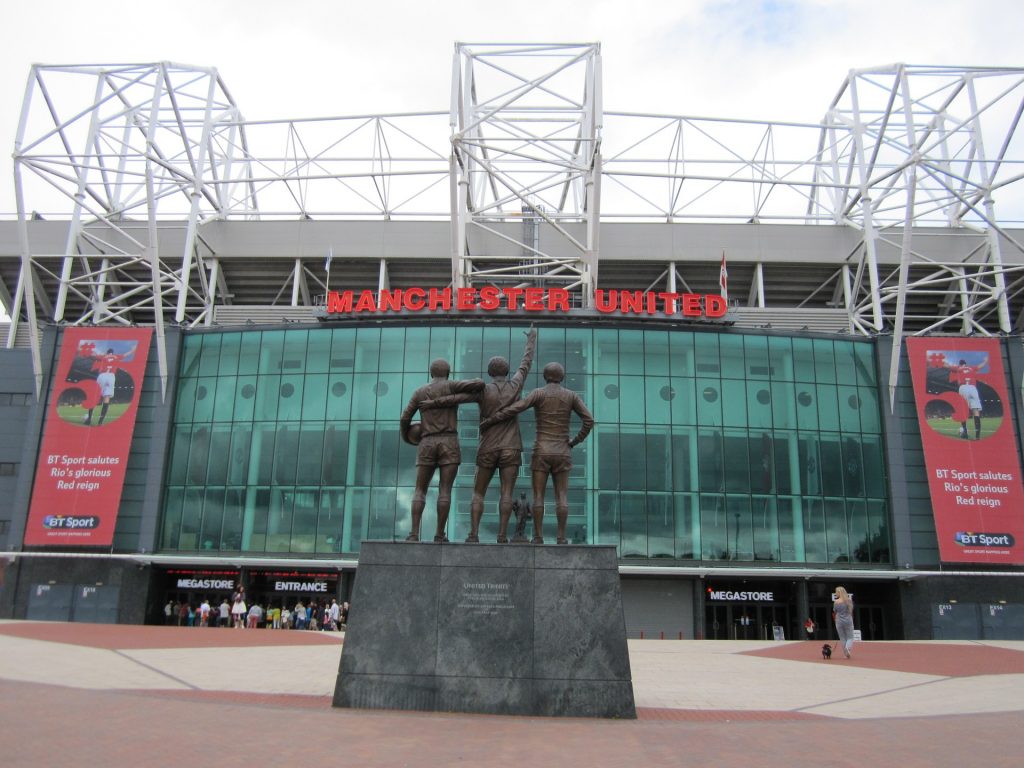 Perhaps ranking higher on the fame charts than anything else, Manchester is famous for football and the city's dominant position in the sport only looks set to continue. Home to Manchester United, the most successful club in English football history, and their rivals Manchester City, who have enjoyed a meteoric rise in recent years, bagging one trophy after another. It's no exaggeration to say Manchester is one of the world's great footballing cities. The roots of football in Manchester stretch back to the late 19th century and the very founding of the modern game. Today the city is host to the National Football Museum, an expertly created collection that gives a fantastic insight into the history of 'the beautiful game'. Manchester United and Manchester City also both offer tours of their famous stadiums, Old Trafford and the Etihad Stadium, respectively.
Traditional Bites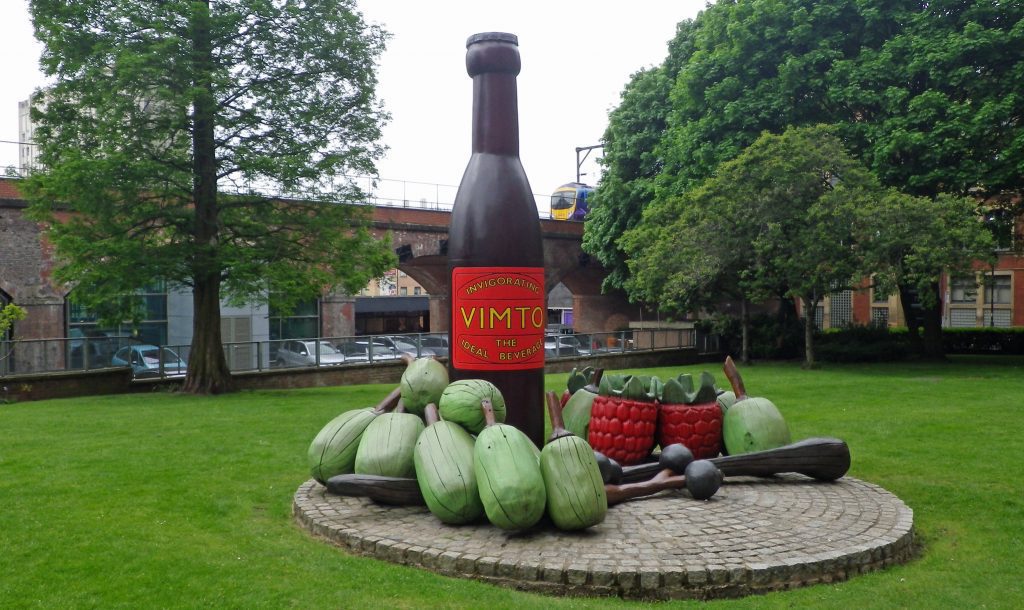 As we said at the beginning, Manchester harmoniously blends the old with the new, the innovative with the traditional. For all the boundary pushing establishments to be found across the city, hatching new flavour sensations in their kitchens, some of the most beloved foods are the most famous, those tried and tested comfort foods known since youth. First produced in 1908, and beginning its life as a health tonic, the grape and berry flavoured soft drink Vimto is a Manchester institution. Now produced for markets across the globe, the instantly recognisable taste of Vimto has gone from humble Lancashire origins to being world famous. Other famous sweet foods from the city include Manchester Tarts (a custard and jam filled pastry — we wrote about them previously on our blog) and Eccles Cake (a pie stuffed with sweet dried fruits). For those who love savoury flavours, you may enjoy a Bury Black Pudding (blood sausage) or Rag Pudding (a suet pastry filled with meat and gravy), two of Manchester's famous local dishes. But if you're a vegetarian, or vegan, never fear. Manchester has a booming veggie scene with chefs often ingeniously creating meat-free versions of classic recipes. If you're vegan, you may want to consider joining us for our Vegan Food Tour of Manchester.
This brings to a close our list of just some of the famous things that Manchester is known for. If you have any questions about this blog or our tours, please do not hesitate to contact us.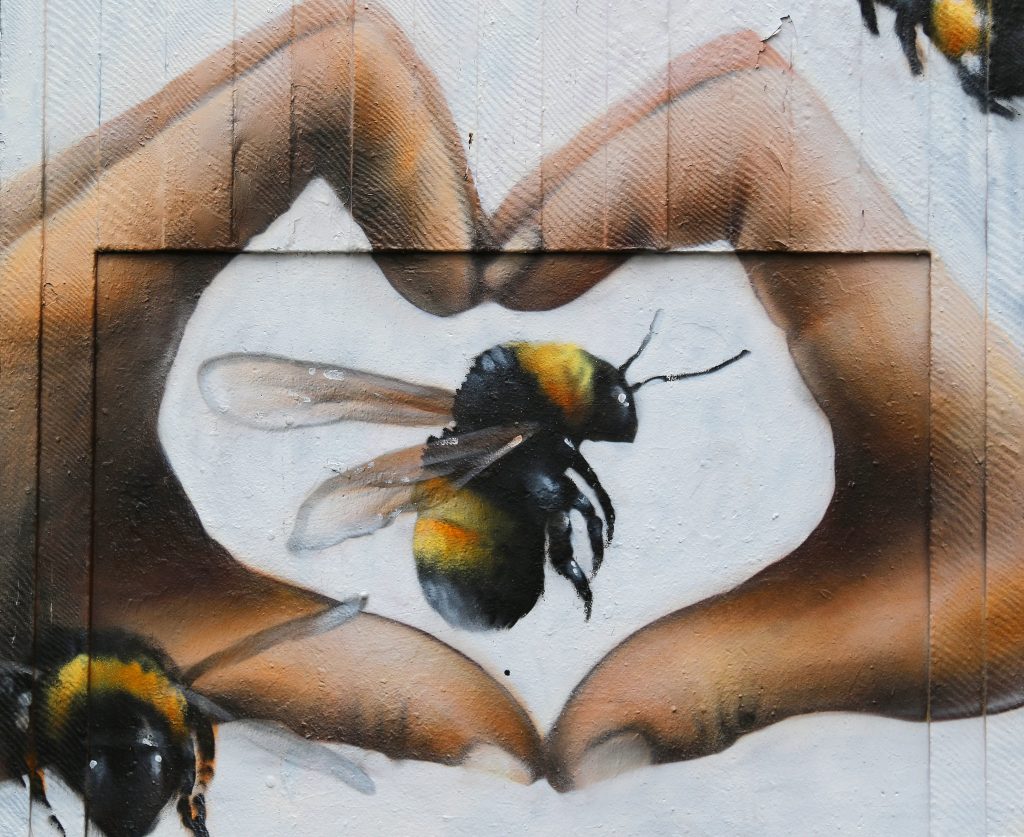 What are the best places to visit in Manchester?
Welcome to Manchester! We're a little obsessed with our home city and just love sharing it with visitors from all over the world. It's why we offer foodie walking tours to help visitors learn the real stories of the city and its people.
Whether it's your first time visiting or you're coming back for more, we want to share some of the best places to visit in Manchester. Some are the top tourist attractions that you'll likely find on TripAdvisor and in your travel guides. But, as locals, we also have our own favourite spots we recommend you check out to get a different view of the city.
So, without further ado, some of the top places to check out when visiting Manchester…
Top Tourist Attractions in Manchester
Let's start off talking about some of the top tourist attractions in Manchester. After all, there's a reason these are the top spots!
Castlefield
We're big fans of Castlefield and even wrote about what to do in Manchester's Canal Basin. You'll find fascinating history, cool cafes, endless gathering spots, and this is even where you'll find the Science and Industry Museum (more on that later).
Whatever you're into, Castlefield can't be missed when you come to Manchester!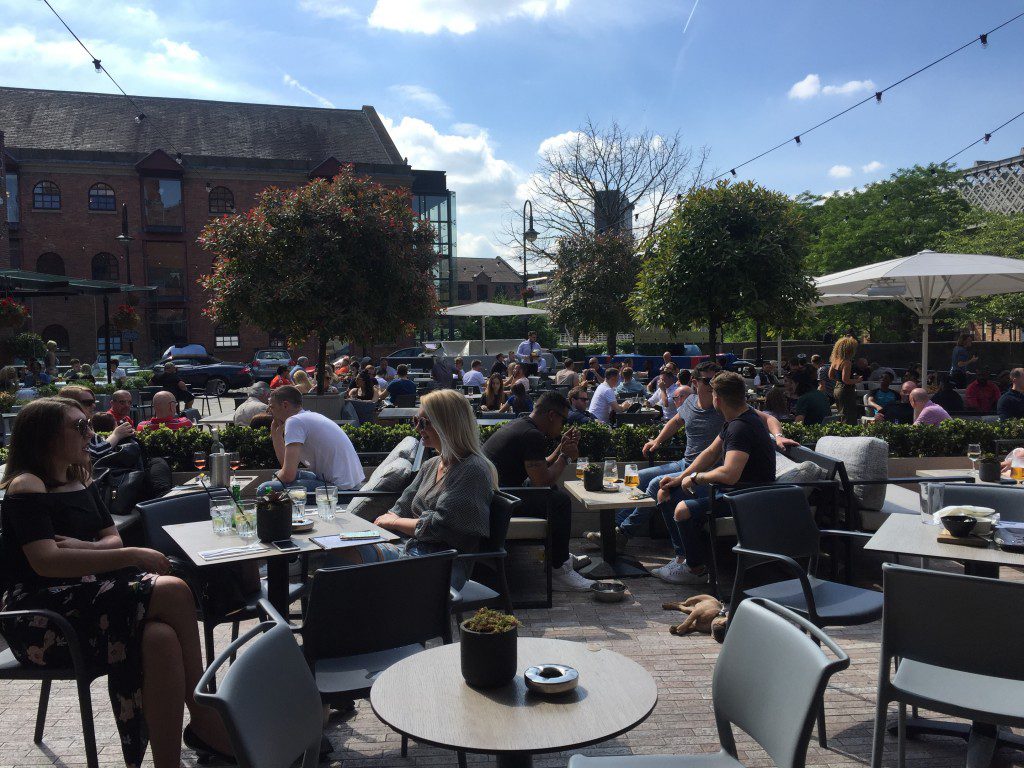 Manchester Cathedral
Officially named "The Cathedral and Collegiate Church of St Mary, St Denys and St George", Manchester Cathedral is a notable landmark and well worth visiting to admire the stunning architecture for a moment of tranquility. Occasionally, there are even gigs hosted in this beautiful venue!
Old Trafford & Etihad Stadium
The historic home of Manchester United at Old Trafford is the UK's biggest club football stadium. But don't miss the state-of-the-art Etihad Stadium, home to Manchester City. With quite the rivalry between the teams (just reference The Derby), football is an intrinsic part of life in Manchester.
Whether you're a fan or not, visiting the stadiums offers interesting insights and a behind-the-scenes look into two of the world's biggest football clubs.
Manchester Town Hall
One of Manchester's most beautiful buildings, the Town Hall is historic and architecturally significant. It's often regarded as one of the best examples of Neo-Gothic architecture in the entire UK. The murals in the great hall depict the depth of history here in Manchester, while the clock tower is awe-inspiring.
You can learn more about the story of Manchester's Town Hall in our blog…or get all the details during one of our Manchester food tours.
Manchester Central Library
Manchester has quite the claim to fame when it comes to libraries: Ours was the first local authority to offer a free library for the general public to access. It opened in 1852, with Charles Dickens in attendance at the opening ceremony! Learn more about the Manchester Central Library and then go visit Manchester's Parthenon for yourself.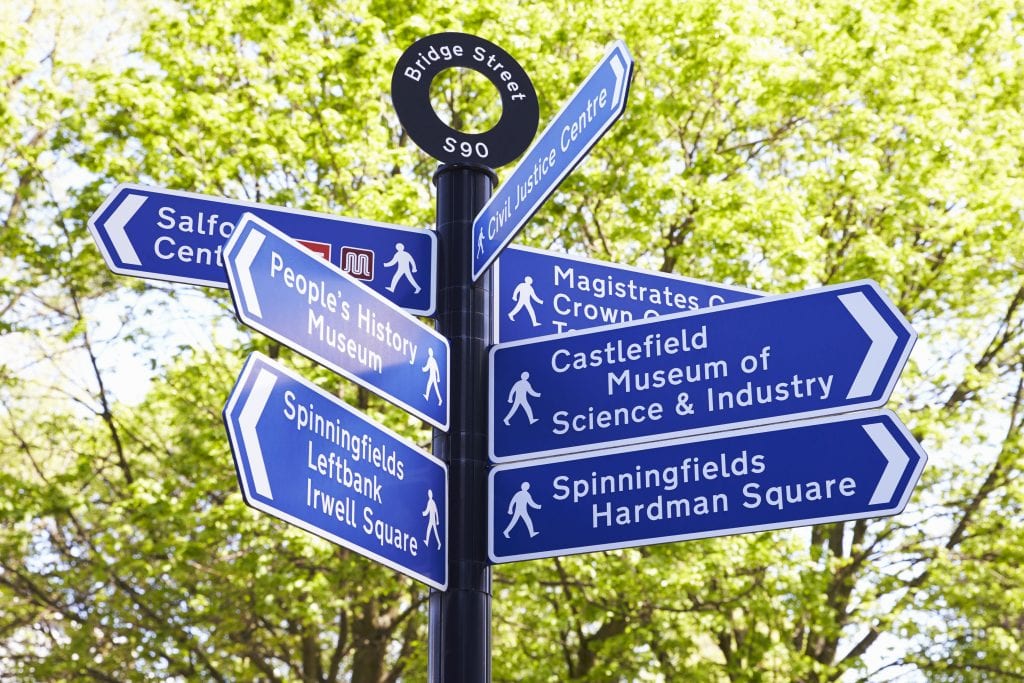 Favourite Local Spots in Manchester
While the top tourist attractions are certainly worth checking out, there are so many local spots in Manchester that you just have to visit! We (obviously) are partial to the food-related spots, but there are plenty of areas to check out all over the city.
Here are some of our top recommendations…
Chinatown
You can't visit Manchester and skip Chinatown! As one of the largest Chinatowns in all of Europe, you'll be spoilt for choice when looking for dining options. The Chinese New Year celebrations here are exceptional, so don't be afraid to visit Manchester in winter!
Want to learn more? We wrote about some interesting history and gave recommendations for Manchester's Chinatown that you should miss.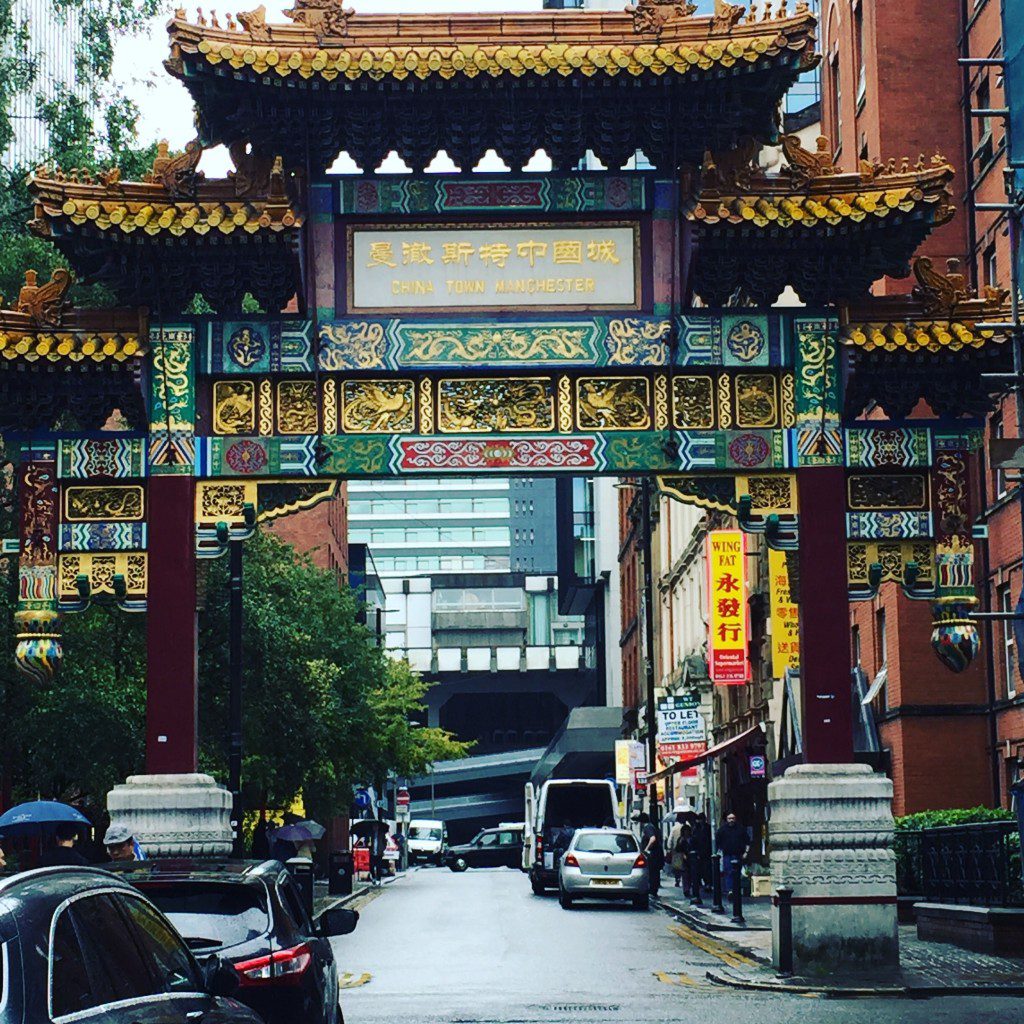 Mackie Mayor Food Hall
One of our favourite spots in Manchester! Mackie Mayor Food Hall is a must-visit in Manchester for its history and its excellent variety of food stalls. Now a Grade 2 Listed Building, this space has adapted and evolved over the centuries to accommodate the changing needs of the community. It's one of our favourite stops during our Foodie Walking Tours of Manchester.
Altrincham Market House
Altrincham Market House is one of the best things to do in Manchester. We love that story of its revival after a rough period of decline (check out the blog for more details). Nowadays, this is a hot spot for locals with some exceptional food options, live music in the summer, and a positive vibe all around.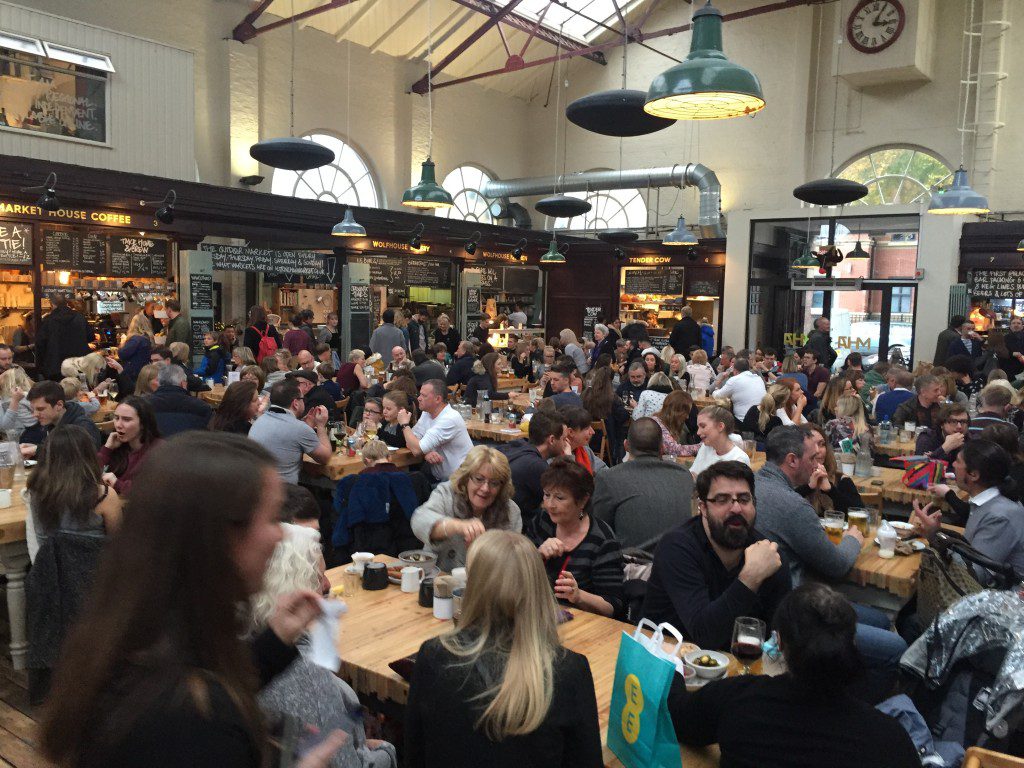 Canal Street
You can't visit Manchester and not enjoy a night out on Canal Street. Known as the Gay Village, this area boasts plenty of bars, restaurants, and clubs for gathering with friends or making new ones. It's the spot in town…but if you ask us during a tour, we'd be happy to share our own personal favourite nightlife options.
Manchester Free Trade Hall
This beautiful building boasts plenty of interesting history for Manchester, from corn laws to orchestras. But it might be most recognisable to music fans as the site of "that Dylan concert" that helped change the music industry. It's now a hotel, but still worth checking out for its architectural beauty and history.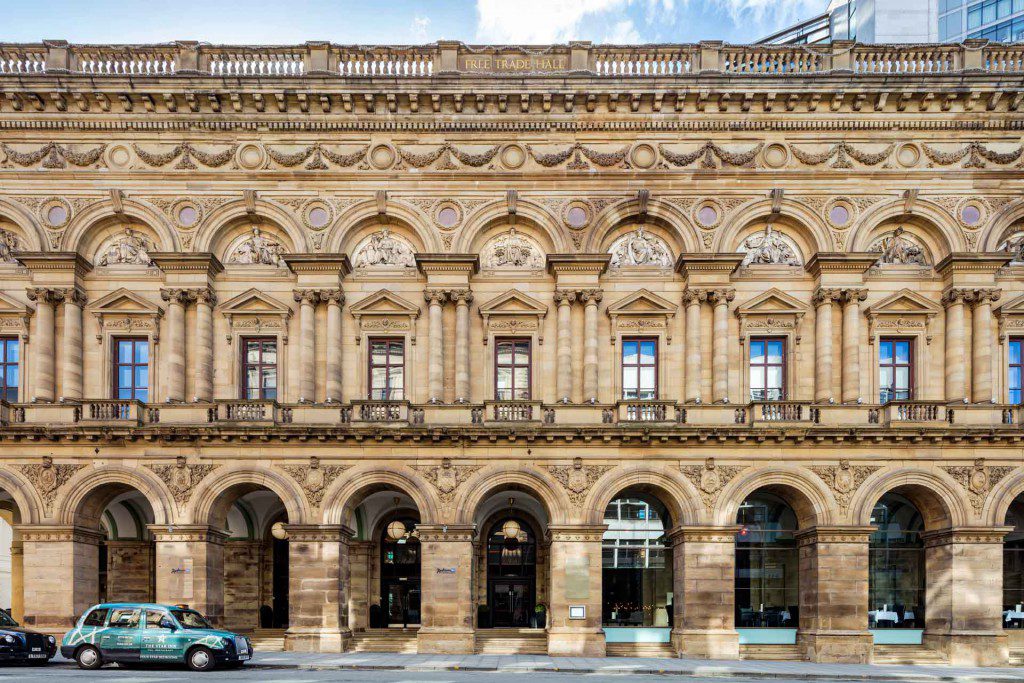 Manchester Craft and Design Centre
We don't just support local restaurant owners and foodie creatives…we also support local artists! Explore the Northern Quarter and visit the Manchester Craft and Design Centre to purchase locally-crafted, unique items. The creativity here is astounding and it's certainly a favourite local spot to visit in Manchester.
Top Manchester Museums to Visit
We're never ones to stop learning, and there are tonnes of museums to visit in Manchester where you can explore everything from local history to pop culture to science and art. This is a city of innovators and creatives, so you'll have plenty to take in whatever your interests may be!
Here are just some of the top museums we recommend visiting on your Manchester trip…
Science and Industry Museum
One of the top museums in Manchester, the Science and Industry Museum is located in Castlefield so you can enjoy two of our favourite spots. With the industrial past in this city, you can bet that innovation and invention were regular trends here. Check it all out for an educational experience.
Manchester Museum
The Manchester Museum is always popular and for good reason. Its collection is diverse and interesting, spanning from dinosaurs and mummies to beetles and frogs. It's a great spot for families visiting Manchester, or for those inevitable rainy days.
People's History Museum
The People's History Museum shares fascinating information on the history of democracy. Manchester has always been a city of the people, and those people were often fighting for social justice (and often still are). Check this one out to dive deeper into Manchester's involvement over the years in various social and legal causes.
Imperial War Museum North
Explore the history of war from the First World War through the following century. The Imperial War Museum North is one of the Imperial War Museums, which are a collection of world-class museums highlighting conflict and its impact.
Manchester Art Gallery
The Manchester Art Gallery is centrally located and offers free entry, so it's certainly worth checking out — especially for an escape from the rain! There is quite a variety of art to enjoy from world-renowned artists.
Pankhurst Centre
Learn about Manchester's Suffragettes at the Pankhurst Centre, a museum dedicated to telling the story of women's fight for the right to vote from the building where the movement started.
National Football Museum
If you're a football fan, beyond visiting the aforementioned stadiums, you should check out the National Football Museum. It offers insight into the history of the game and shares endless stats and details on league history. You can even test your own football skills!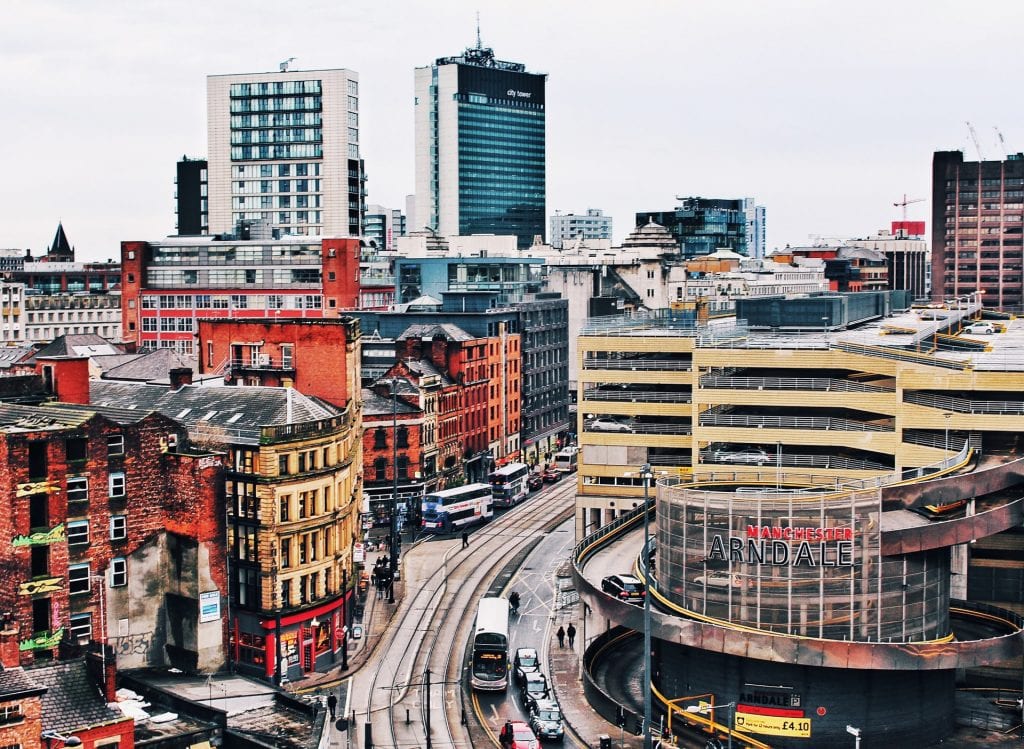 So, what do you think? Are these all the best places to visit in Manchester or did we miss your favourite? We'd love to actually take you to some of our favourite spots during our Manchester foodie tours. We're all about sharing the stories of the people behind the food, the people who make this city so great. Come join us and enjoy the best of Manchester!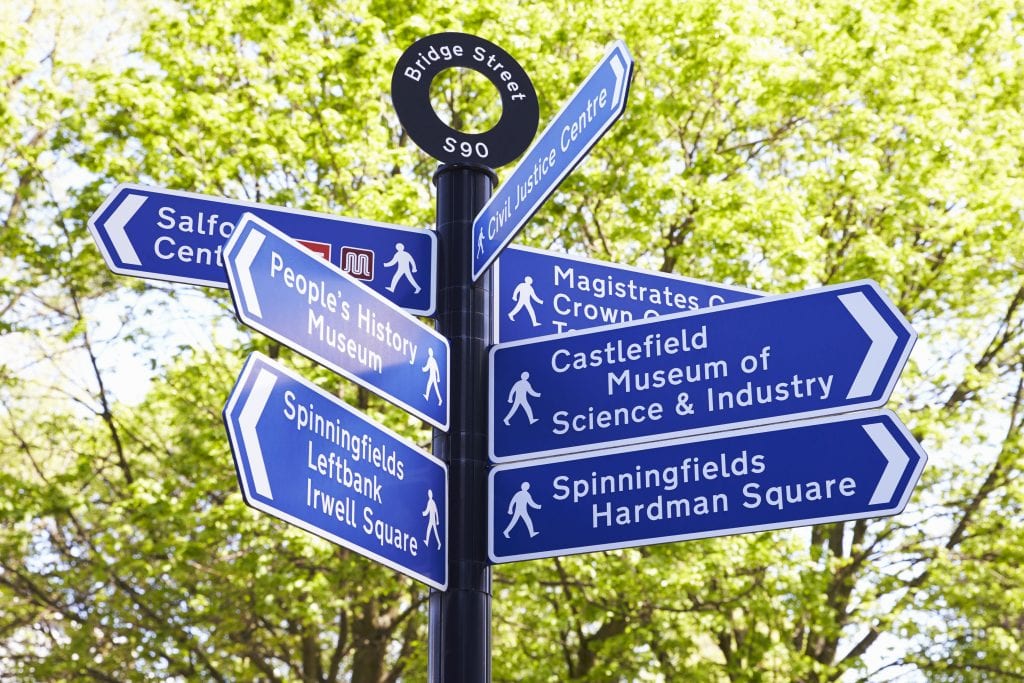 Manchester Central Library. What to do in Manchester.
Manchester Central Library is one of the most famous buildings in the city. If you're looking for a unique building to visit then put this on your list. The Library sits on St Peter's square right next door to the town hall. Completed in 1934 it is Manchester's version of The Pantheon.
Another Manchester First.

Manchester was the first local authority to open a free to use library for the general public. The Manchester free library opened in September 1852. Charles Dickens was one of the attendees at the opening ceremony. The library had a number of sites until finally settling at it's current spot in 1934.
On the opening of Manchester central library in 1934 King George V said "In the splendid building which I am about to open, the largest library in this country provided by a local authority, the Corporation have ensured for the inhabitants of the city magnificent opportunities for further education and for the pleasant use of leisure".
Central Library's unique architecture.

The huge rotunda was inspired by Rome's Pantheon. The dome on the outside is just the library's surrounding roof. Inside the dome that covers the main reading hall fits inside this surround. Many people visit the library just to look up and admire this.
In the basement of the building there was originally a theatre which was home to the Library Theatre company. Since 2011 they have moved to a new site on First street. The old theatre is now part of the library.
Central Library Today.

In 2014 the library reopened after a major renovation project. Since then millions of Mancunians and visitors have walked through the doors. Many come for the art festivals that are held here. A lot of the city's students still choose to study here and many locals still use it for it's original purpose of a library. It's free to enter and there's a nice coffee shop on the ground floor for you to relax in.
If you'd like to find out more about Manchester and explore it's hidden side streets, why not book you and your friends on our Manchester food tour. www.manchesterbites.com for more info or contact manchester@bitestours.com
When can we visit Manchester? Our food tours are "Good to Go" certified.
When can we visit Manchester, or anywhere in the UK? That's the question we're all wondering about at the moment.
Manchester, like the rest of the UK is currently in our 3rd period of lockdown. We are once again all sat at home, working on our laptops or catching up on Netflix.
It looks like this situation will remain like this until at least March. Hopefully then the vaccine will have been effective enough and we can all look forward to a summer like no other. Until then though Manchester Bites food tours have been put on hold. Instead we are designing new experiences and spending time in our kitchens trying to replicate some Manchester food favourites.
The Good to Go Certificate
There is some good news though.
We are pleased to announce that Manchester Bites food tours have received the Good to go certificate from Visit England tourist board. The certificate is given to tourist businesses who have adhered to all covid guidelines to ensure a safe and comfortable experience for their guests. Observing social distancing, wearing masks when necessary and providing hand sanitizers and gels.
These have become the way of life for tour operators all over the world. Visit England is keen to promote those businesses that are serious in looking after their guests. We are delighted to be recognised as such.
So, when can we visit Manchester?
All being well it looks like restrictions will begin to ease sometime in March. There will more than likely be a slow easing with areas dropping tiers every few weeks. Our first guests will be domestic tourists from around the UK. We can't wait to show you our Manchester and the food that feeds us all. We'll be re-opening for bookings soon enough. You can book your future food tour at www.manchesterbites.com/tours

Until then stay safe and we'll see you all soon.