What Is Manchester Famous For?
Manchester is one of the UK's most widely known and well-loved cities. Having been one of the engine rooms of Britain's industrial revolution, given birth to countless artists and musicians, and produced a staggering 25 Nobel Prize laureates, Manchester's historical significance is firmly established. However, the creativity at the heart of so much of Manchester's story continues to flourish today. Manchester is a beautiful blend of tradition and innovation, possessing a vitality that means lists like this one will surely get longer with each passing decade. That being said, as proud Mancunians, we'll take any opportunity to discuss the things that make Manchester special, so please join us for some of the things that made, and continue to make, Manchester famous. And while you're here, you may want to browse our Manchester Food Tour — From Canals to Canapés, which gives a history of our city through 10 tastings and explores a couple of the city's coolest areas. 
Creativity
Manchester has long been established as a cultural hub, a city that seems to speak to the creativity in its citizens and inspire collaboration. One need only take a cursory look at a history of the city's music scene to appreciate just how many world-famous musicians the city has produced: Joy Division and New Order, The Smiths, The Stone Roses, Oasis, Elbow… The list goes on, and we're pleased to say new bands are forming all the time. Art lovers, meanwhile, have long associated Manchester with the work of LS Lowry, who lived for many years in Salford. Today, Manchester is home to The Lowry, a museum and exhibition space dedicated to his inimitable paintings. And to see this famous creativity on display today, visitors should head over to the Manchester Craft and Design Centre. Housed in a Victorian former fish market, the Craft and Design Centre has been nurturing creative talent and businesses since 1982. We wrote a blog dedicated to the centre here. Whatever your own creative passions, Manchester is a city that will inspire.
Culinary Diversity
We could talk at length about Manchester's long and proud history of liberalism, openness, and tolerance and some of the famous trail blazers the city has produced like Emmeline Pankhurst and Alan Turing, but, given our tours' focus on Manchester's food scene, let us mention in particular the diversity that shines through Manchester cuisine, which provides a fine glimpse into the 21st century fabric of the city. Surveys indicate that around 200 languages are spoken in Manchester today. The city continues to flourish as a multicultural population as it has done historically when Irish, Caribbean, and Asian communities came to call Manchester home. The city's food culture celebrates this cultural brew and diners have available to them a veritable world atlas of flavours (the Manchester Evening News were even able to compile an A to Z country list of Manchester dining possibilities, from Armenia to Zimbabwe!). From the Curry Mile to the 2nd largest Chinatown in the UK, award-winning sushi to Mexican street food, Manchester today is known far and wide for a food culture diverse enough to rival any other city.
Football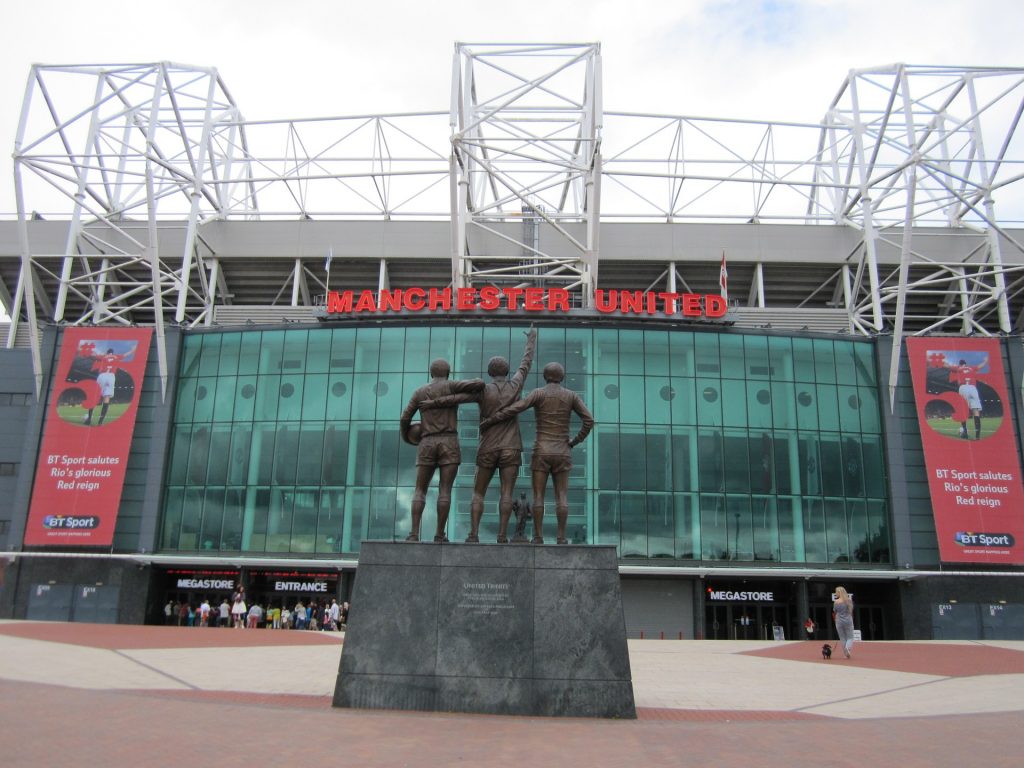 Perhaps ranking higher on the fame charts than anything else, Manchester is famous for football and the city's dominant position in the sport only looks set to continue. Home to Manchester United, the most successful club in English football history, and their rivals Manchester City, who have enjoyed a meteoric rise in recent years, bagging one trophy after another. It's no exaggeration to say Manchester is one of the world's great footballing cities. The roots of football in Manchester stretch back to the late 19th century and the very founding of the modern game. Today the city is host to the National Football Museum, an expertly created collection that gives a fantastic insight into the history of 'the beautiful game'. Manchester United and Manchester City also both offer tours of their famous stadiums, Old Trafford and the Etihad Stadium, respectively.
Traditional Bites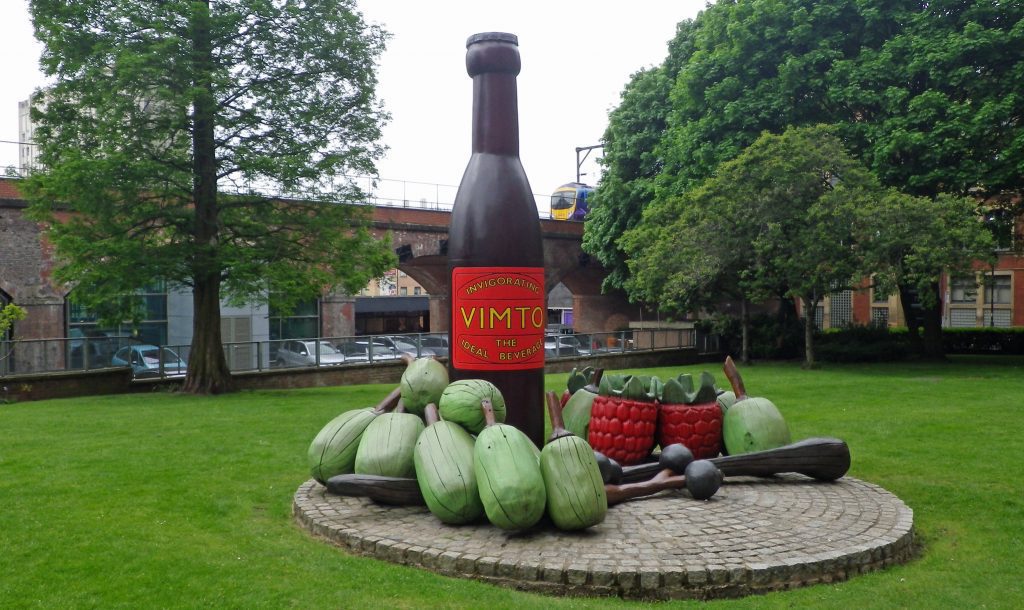 As we said at the beginning, Manchester harmoniously blends the old with the new, the innovative with the traditional. For all the boundary pushing establishments to be found across the city, hatching new flavour sensations in their kitchens, some of the most beloved foods are the most famous, those tried and tested comfort foods known since youth. First produced in 1908, and beginning its life as a health tonic, the grape and berry flavoured soft drink Vimto is a Manchester institution. Now produced for markets across the globe, the instantly recognisable taste of Vimto has gone from humble Lancashire origins to being world famous. Other famous sweet foods from the city include Manchester Tarts (a custard and jam filled pastry — we wrote about them previously on our blog) and Eccles Cake (a pie stuffed with sweet dried fruits). For those who love savoury flavours, you may enjoy a Bury Black Pudding (blood sausage) or Rag Pudding (a suet pastry filled with meat and gravy), two of Manchester's famous local dishes. But if you're a vegetarian, or vegan, never fear. Manchester has a booming veggie scene with chefs often ingeniously creating meat-free versions of classic recipes. If you're vegan, you may want to consider joining us for our Vegan Food Tour of Manchester.
This brings to a close our list of just some of the famous things that Manchester is known for. If you have any questions about this blog or our tours, please do not hesitate to contact us.