Manchester Food Tour – From Canals to Canapés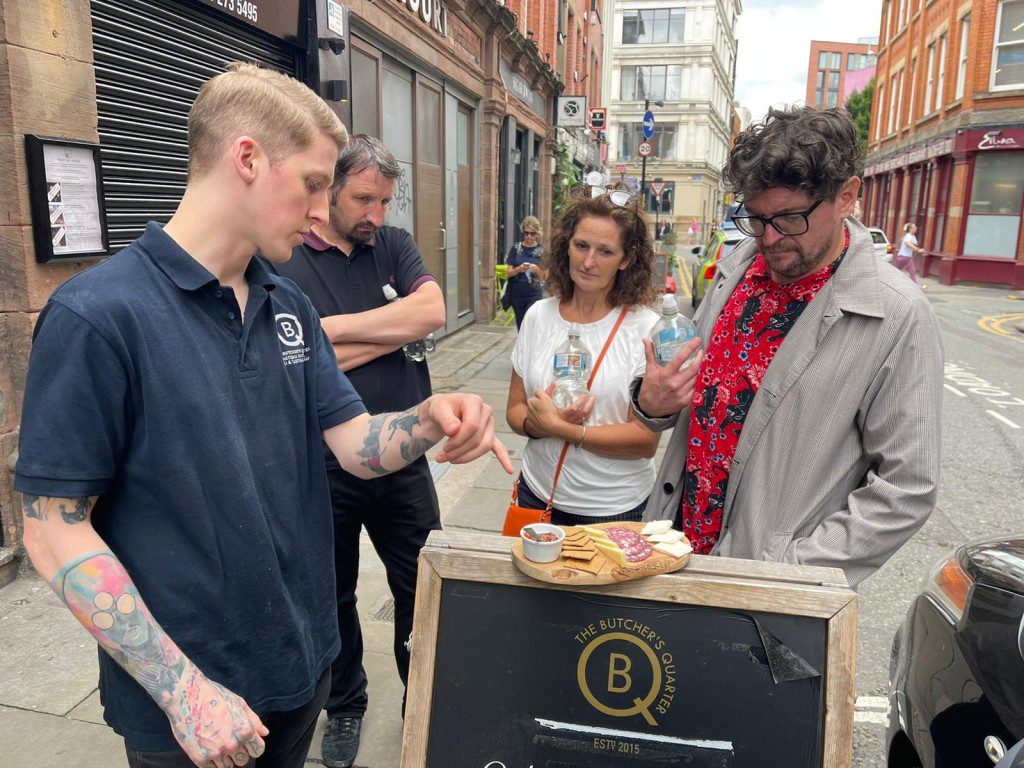 Booking Details
Tastings: Plenty of different tastings representing Manchester and Mancunians
Duration: Daily 11.30am - 2.30pm
Location: Ancoats and Manchester Northern Quarter
Perfect for: Exploring 2 of the coolest areas of Manchester
Special experiences for groups of 6 or more: For groups of 6 or more please get in touch and we can arrange a special experience.
Tour Description
GIFT CARDS AVAILABLE!!!!
Our gift card option is the perfect experience gift for Manchester. Give the gift of fun and food. Just click the book now button and choose purchase as a gift voucher.
Come and explore the cobbled streets of the world's first industrial suburb. Once, this area was the epicentre of industrial activity — home to Little Italy, the Irish, and the Polish ghettos. Walking across the canals and down the mill-lined streets, you'll soon realise the importance of this historical area.
Many of Manchester's favourite restaurants have popped up in the newly refurbished mills and warehouses. What were once ice storage buildings are now Michelin star restaurants.
We'll show you around these back streets, sharing stories and enjoying some delicious bites along the way — all of them connected in some way to Manchester's story of growth and immigration. We'd also like to invite you to read our story before you visit.
Great for:
Exploring 2 different areas of Manchester in Ancoats and the Northern Quarter
People new to Manchester who want to experience some of our less touristy areas
History lovers – especially those keen to know more about our industrial past
Food lovers – there are some seriously good eats on this route
What you will enjoy?
3 hours exploring the world's first industrial suburb and now voted one of the coolest areas in the world

Visit locally run, independent food heroes, from artisan bakeries, to the city's favourite hidden Indian cafe

Food tour led by Manchester local, all of whom are food lovers who know the best spots to eat and drink

Fascinating stories about Manchester's streets, from 19th century crime gangs to 21st century film sets

A small tour group of 10 or less meaning you will have a more personalised, relaxed experience.
What you need to know
Tour starts at 11.30 am daily

Advanced bookings are a must

Tour lasts about 3 hours

Vegetarians can be catered for

All food and drink is included – you only need to bring money for extra purchases and a tip

Wear comfortable shoes and be prepared for rain
FAQs
We think the best time for a tour is about 3 hours. We will be there or thereabouts. If you would like a more in depth Manchester food tour please email us manchester@bitestours.com We can tailor-make a specific tour to suit your needs.
Once your booking is confirmed we send you an email with useful information. This includes the tour start point and time. Don't worry our starting points are easy to find.
You will also have the details of your guide including a phone number if you get lost.
All of the food and drinks in the itinerary are included. Enough for a big lunch or dinner. You only need to bring your camera and an empty stomach.
Tips for your friendly guides are not included and at your discretion.
We'll be walking from stop to stop so please wear comfortable shoes.
Also, this is Manchester. Be prepared for rain. Apart from that bring your camera and of course an empty stomach. We're going to eat, eat, eat.
Our tours are rain or shine events. If it rains we try and alter the route so you are covered as much as possible.
This is Manchester though, it does rain. Please arrive prepared for rain even if it looks like a lovely day.
Did you know that Manchester invented vegetarianism?
Yes, vegetarians can be catered for. Please make sure you let us know at the time of booking.
We will do our best to accommodate other dietary needs however we cannot promise that every stop will be able to meet these needs. Vegetarians are fine though.
If you have a serious food allergy our food tours probably aren't for you. We have had a few people come along with the rest of their group and still have a great time though.
Our guides will do their best to accommodate you with some alternative bites. You will still get to enjoy all of the cool stories and tales of Manchester.
For less serious allergies please inform us at time of booking and we will do our best to accommodate you.
For groups of 6 or more we can extend our offerings to create a truly memorable experience. Please get in touch by emailing manchester@bitestours.com We can add tastings, different alcohol packages, transport, etc… It's all possible.
Yes we do. Just click the private tour option when booking. If you'd like something a bit more exclusive send us an email at manchester@bitestours.com and we'll create a unique experience just for you.
Yes we do. We have hosted tours for the likes of Google and Allianz as well as University groups from overseas. send us an email and we can help your group out manchester@bitestours.com
You can cancel anytime 24 hours prior to the tour start and receive a full refund. Any cancellations less than 24 hours can't be refunded as we need to pay guides and suppliers. We will do our best to move you to another date or time slot if need be.