New Century Hall.
New century hall is a name synonymous with Manchester's music scene.
Built in 1963 the venue played host to names like Jimmy Hendrix, The Bee Gees, The Rolling Stones and Tina Turner. It was famous for having both excellent acoustics and a sprung dance floor.

As Manchester's music scene changed the venue hosted many an acid-house party in the 80's.

It was in the latter part of the 20th century that the area around New century hall became an almost forgotten part of Manchester. While other parts of the city were being developed the area we now know as NOMA was very much left alone. Businesses moved to more attractive area's and the New century development was left behind.

Last year a relaunch occurred and once more New Century hall was on the lips of those in the know of where to go. Being a listed building has meant that many of the original interior remains. The dance floor is still the original spring version. The lights still date back to the early 60's.

The line up will always be eclectic. The bard of Salford John Cooper Clarke has performed here since the relaunch. As have countless up and coming bands as well as some more familiar names such as The Charlatans. It's a venue that is breathing new life into an already thriving music and art scene here in Manchester.
New Century Food Hall
New Century hall is also where you can find one of Manchester's newest food and drink venues. Right underneath the dance floor on the ground level is New Century Kitchen.

8,000 square foot of independent food and drink retailers make this a must see destination for any food lovers in Manchester. Local names such as Spice Yard and Zumuku sushi are firm favourites with the crowds. In the centre of the kitchens you'll find a bar offering local beers and spirits and some great inernational choices as well.
Evening Food Tour
We've been asked by quite a few of our clients if we'd put together and evening food tour of Manchester. New Century hall is going to be the starting point for this new project. Amazing, local food in one of Manchester's most historical buildings. What's not to love?

To reserve your spot on our new evening food tour, send us an email and we'll share all of the information.
Best Manchester Eats: The Lancashire Hotpot
A lot of guests on our Manchester food tours ask us what are the most famous foods from Manchester? What is the typical cuisine of the region?
Well, given Manchester's famously – or, perhaps, infamously – drizzly weather, it should come as no surprise that we enjoy warming, hearty dishes.
Rich Bury Black Puddings are served at breakfast. Eccles Cakes make a fine accompaniment to a hot cup of tea. And an indulgent Manchester Egg is just the thing after a couple of pints!
But perhaps most beloved of all is the Lancashire Hotpot. This irresistible dish is so simple to prepare and makes a perfect choice on a cold night.
The History Of The Lancashire Hotpot
First, the name. Though Manchester today has its own council area, the city has historically formed part of the county of Lancashire. A fact witnessed in the city's sports, with Lancashire Cricket Club playing their home games just south of the city.

Hotpot is cloaked in a little more mystery. Does it refer to the pot or the style of food being prepared? The famous 1861 cookbook Mrs Beetons Cookery Book contains a recipe for a simple stew called 'Hotch Potch' and it's likely that hotpot similarly refers to any straightforward stew that can be cooked in a single pot.
The Lancashire Hotpot, like so many Manchester traditions, is bound to the city's history of work. Before industrialisation, many families would work at home spinning thread. A meal that could be left to slow-cook above a fire was most convenient.
Following industrialisation, this characteristic of the Lancashire Hotpot became even more important. A workforce was now leaving home for several hours at a time. The hotpot was a perfect meal as you could leave it on low heat to cook while you were out.
Hungry workers would race home at the end of a shift and find a hearty dinner awaiting them. Presumably, their home was also filled with the pleasing aroma of the stew.
Learn more about the city's starring role in Britain's Industrial Revolution with our From Canals To Canapés Manchester Food Tour.
So What Is A Lancashire Hotpot?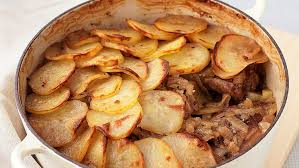 Well, three ingredients are essential for the Lancashire Hotpot: lamb, onions, and potato. Lamb refers to the meat of a young sheep, though mutton (cheaper cuts from older sheep) was traditionally used.
The lamb is slowly stewed along with onions, stock, and some flour to thicken. Thinly sliced potatoes are placed on top to act as a lid, sealing in the meat and veg. The dish is then cooked in the oven for an hour or so until ready.
Couldn't be any simpler! Although you will today find plenty of variation from the original three-ingredient recipe.
Carrots are often added to the stew, as are leeks and turnips. Historically, lamb's kidneys would also be added, though this is less common today.
The topping is also sometimes varied, with a pastry lid added instead of potatoes.

One notable absence from contemporary recipes is oysters. In early versions of the hotpot, oysters regularly formed part of the mix. By the 18th and 19th centuries in England, oysters were hugely popular and were added to all kinds of recipes.
During the 19th century, in particular, oysters were the affordable street food of choice (in the year 1864, over 700 million oysters were consumed in London alone). But due to over-fishing, oysters became the high-end delicacy we know today.

If you like seafood, check out our blog on where to buy the best fresh fish in Manchester.
The Perfect Dish for a Cold Manchester Day
So, why do we love our Lancashire Hotpot so much in Manchester?

Its simplicity means that a delicious Lancashire Hotpot can be made on a budget. This was a dish for working people and you won't need to break the bank to buy enough ingredients for a generous serving.
You don't need to have a wealth of cooking knowledge to prepare the dish, and, once in the oven, you're free to relax and get on with other things. You'll also get plenty of nourishment from a Lancashire Hotpot.
In an era in which we're repeatedly encouraged to reduce the number of processed foods in our diets, here's a meal that's packed with nutritional value and made only of a few fresh ingredients.

But perhaps more than anything, we love Lancashire Hotpot because of its place in the story of our city. It's been a staple of the Mancunian diet for a long time!
Travel through the city and you'll find pub after pub serving hotpots on their menus. If you find yourself caught up in one of our rain showers, take the opportunity to find the nearest pub and order a restorative portion of Lancashire Hotpot.
The Best Place in Manchester to Eat Lancashire Hotpot
If you want to enjoy a real manchester experience you should try Annies on Old Bank Street. It's our top choice for ordering a Lancashire Hotpot when in Manchester.

Owned by Jennie McAlpine, a star of the legendary Manchester soap opera Coronation Street, Annies offers a cosy setting and an array of classic British food.
In addition to an out-of-this-world hotpot, head chef Richard Moore includes many other local specialities on his menu, from sausage & mash to Bury Black Pudding, and steak & ale pie.

Those wishing to explore English culinary traditions further can also enjoy Afternoon Tea at Annies.
How to Prepare a Lancashire Hotpot at Home
Decided to spend a night in, or just love the thrill of cooking new dishes? Preparing a Lancashire Hotpot at home is low on effort, big on reward.

You have a wealth of recipes to choose from with almost every British celebrity chef having given their own version of the Lancashire Hotpot.
Excellent traditional takes on the stew can be found over on Kitchen Sanctuary or at BBC Good Food. And The Guardian's (another Manchester institution) How to Cook the Perfect Lancashire Hotpot makes for great reading.

And if you like testing the recipes of the famous tv chefs, you can find Jamie Oliver's take on a lamb hotpot here.
This brings to an end our guide to the Lancashire Hotpot, but sign up for our newsletter below and we'll keep you updated with our latest foodie news.

If you have any questions for us about this blog or any of our foodie walking tours of Manchester, get in touch.
---
This post was originally written in June 2020 and updated in March 2022.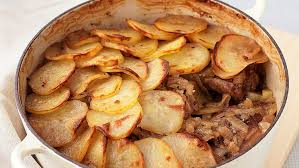 Castlefield: What To Do In Manchester's Canal Basin
A great place to go on a Manchester summer afternoon is Castlefield. Situated at the southern end of Deansgate, Castlefield is a great spot for a few drinks and some lunch. The area sits in the city's historic canal basin where converted warehouses are now home to apartments, restaurants and bars.
As local travel experts based here in Manchester, we're always keen for visitors to explore more of this fascinating, diverse city. That's why we lead food tours in Manchester! We love to show off the incredible variety of cuisines and cultures that make up the heart of the city.
If you're looking for local things to do in Manchester and wanting to explore more of the real city, we'd love to show you around. For now, learn a bit more about the Castlefield area. Then you can plan your trip to Manchester and feel like a local.
A History Of Castlefield
Castlefield was the centrepoint of Manchester's earliest beginnings. A Roman fort was built here around 79AD and from this springs the city we know and love today. The name Castlefield itself represents the fort (castle) which was then surrounded by farmland (i.e. the field).
We've already explained what the people of Manchester are called, but it's these very Roman origins that give us the word we still use today for a person from Manchester: Mancunian.
Walking down Liverpool Road, you can see the ruins of Mamucium (the Roman name for Manchester) opposite the Science and Industry Museum. But ancient Roman ties isn't the only historically significant part of the area's story; in fact, Castlefield has remained at the heart of Manchester across the centuries.
A village developed and flourished in the area throughout the middle ages. Then, during the Industrial Revolution, the Bridgewater Canal, the world's first industrial canal, arrived in Castlefield. This area was the at very epicentre of the industrialisation of Britain, a process of change that would have a global impact.
Liverpool Road was also the site of the world's first passenger train service. In the 1830s, the route between Manchester and Liverpool opened here.
Sadly, after the boom years of the Industrial Revolution, Castlefield was to endure a period of neglect. The old warehouses and canals were left to ruin.
It wasn't until the late 1980s that life started to be breathed back into the area. Enterprising developers began to buy land around the canal basin. Soon, the old warehouses were turning into trendy flats and bars. The canals were cleaned up, and now it is common to see fish, ducks and other wildlife enjoying them.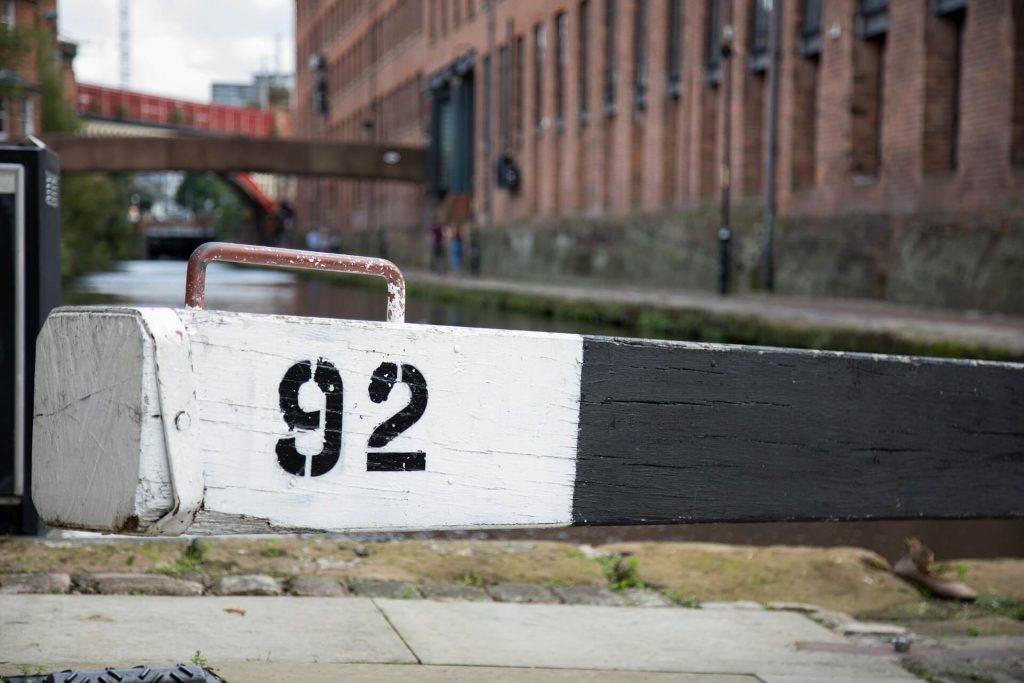 Things to Do in Castlefield Today
Castlefield is a hive of activity these days. The area around Liverpool Road is where you'll find the Science and Industry Museum and the old Roman Fort. We included the museum in our list of the best places to visit in Manchester, but there are loads more recommendations there for you to enjoy!
There is also a great bar near Castlefield called Cask, which has a fantastic array of craft beers to enjoy. Further towards the canal, you'll find the Castlefield Bowl. This outdoor arena has a capacity of 8,500 and is excellent for live music.
Around the canal itself, there is a bar called Dukes 92. The name comes from the bar being housed in a converted warehouse next to the 92nd lock on the Bridgewater Canal. During the summer months, the huge outdoor space is full of Mancunians soaking in the sun with a few cold beers.
When visiting Manchester, take a walk around the basin in Castlefield. There, you'll be sure to find some great photo opportunities and excellent people-watching.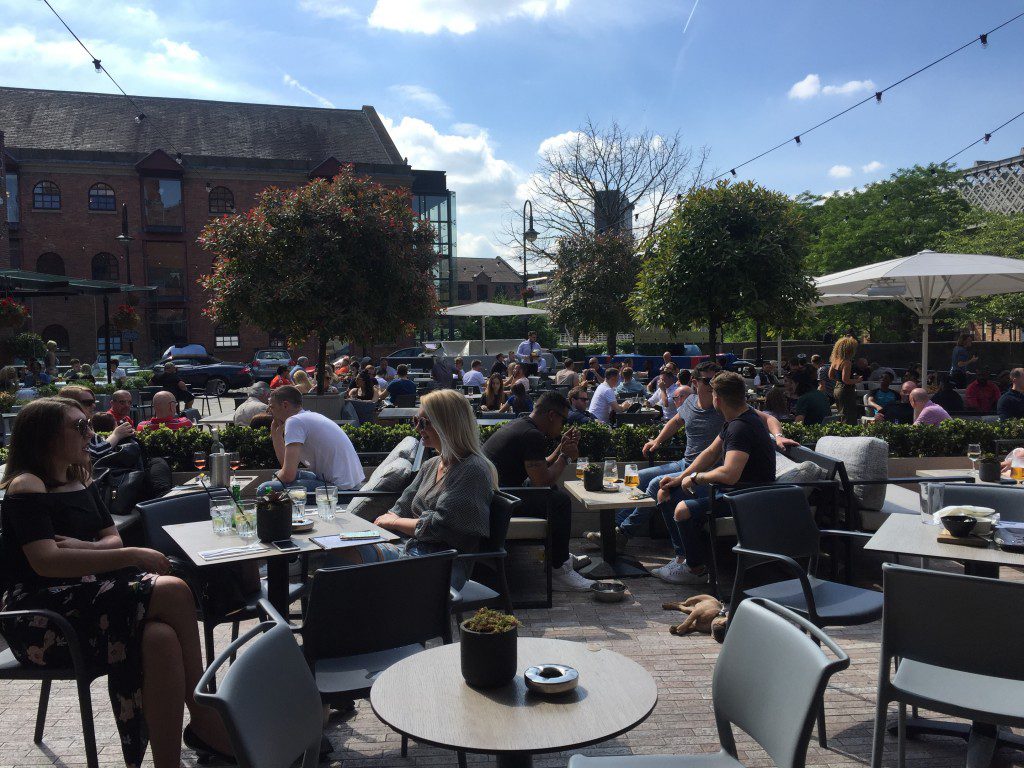 How to Get to Castlefield in Manchester
Castlefield is straightforward to find once you're in Manchester. You can get the tram to the Deansgate – Castlefield stop and then make the 1-minute walk to get there.
It doesn't get much more convenient than that!
If you'd like to explore Manchester in a unique way, come and join one of our food tours at Manchester Bites. We love to tell the tales of the communities that built this great city. And, of course, we taste some of our favourite dishes along the way. If you have any questions about our tours or about Manchester, feel free to get in touch!
This article was originally written in August 2020 and updated in February 2022.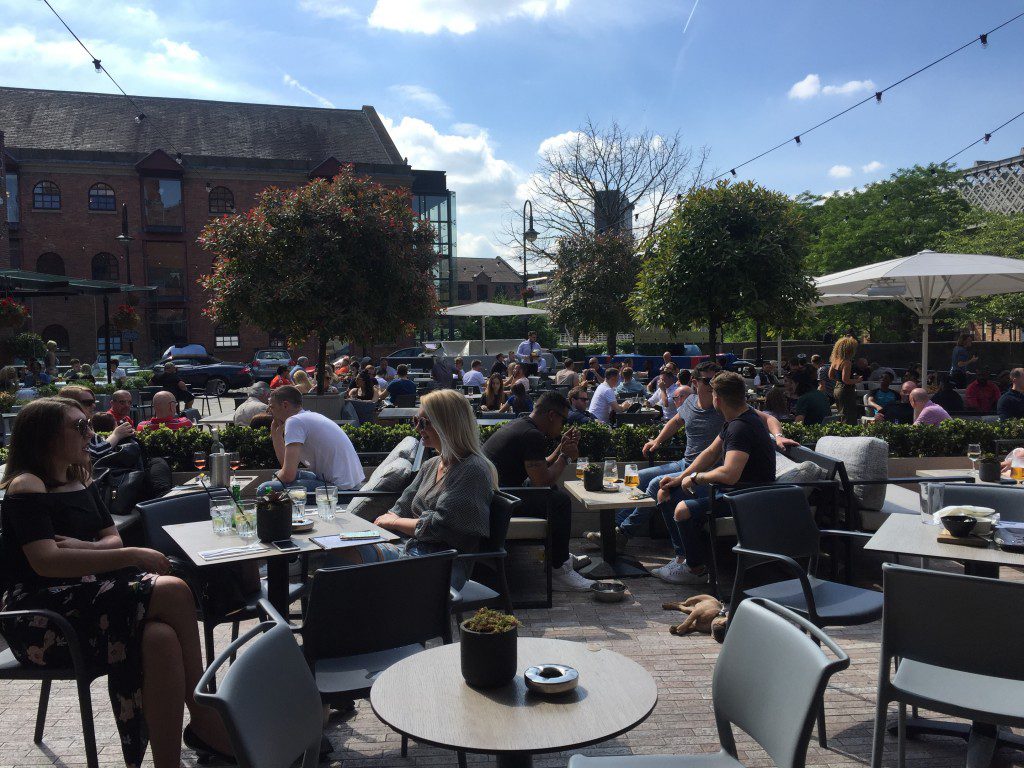 Manchester Central Library. What to do in Manchester.
Manchester Central Library is one of the most famous buildings in the city. If you're looking for a unique building to visit then put this on your list. The Library sits on St Peter's square right next door to the town hall. Completed in 1934 it is Manchester's version of The Pantheon.
Another Manchester First.

Manchester was the first local authority to open a free to use library for the general public. The Manchester free library opened in September 1852. Charles Dickens was one of the attendees at the opening ceremony. The library had a number of sites until finally settling at it's current spot in 1934.
On the opening of Manchester central library in 1934 King George V said "In the splendid building which I am about to open, the largest library in this country provided by a local authority, the Corporation have ensured for the inhabitants of the city magnificent opportunities for further education and for the pleasant use of leisure".
Central Library's unique architecture.

The huge rotunda was inspired by Rome's Pantheon. The dome on the outside is just the library's surrounding roof. Inside the dome that covers the main reading hall fits inside this surround. Many people visit the library just to look up and admire this.
In the basement of the building there was originally a theatre which was home to the Library Theatre company. Since 2011 they have moved to a new site on First street. The old theatre is now part of the library.
Central Library Today.

In 2014 the library reopened after a major renovation project. Since then millions of Mancunians and visitors have walked through the doors. Many come for the art festivals that are held here. A lot of the city's students still choose to study here and many locals still use it for it's original purpose of a library. It's free to enter and there's a nice coffee shop on the ground floor for you to relax in.
If you'd like to find out more about Manchester and explore it's hidden side streets, why not book you and your friends on our Manchester food tour. www.manchesterbites.com for more info or contact manchester@bitestours.com
Where to buy the best fresh fish in Manchester.

A common question our food tour guides are asked is "Where to buy the best fresh fish in Manchester?"
One of the many benefits of the UK food scene is that as an island we have a fantastic array of seafood to enjoy. Fish and chips is probably our most famous dish and us Brits eat a whopping £1.2 billion worth per year of the dish.
Over time our tastes and expectations in the kitchen have evolved. Now Brits are not just diving for the cod and haddock but more exotic species such as bass, skate and sole. Many people are understanding the healthy benefits of eating more fish and TV chefs such as Rick Stein and Mark Hix are showing the nation how to easily cook and enjoy the catch of the day.
Whales Fish Market in Manchester's Arndale

On our food tour of Manchester we explore a small corner of Manchester's Arndale shopping centre. This is a real locals spot, away from the glitzy and fashionable shops. The fish market has been here since most of us can remember. Growing up it was always the best place to visit as it was full of noise, smells and sights you'd never seen. City chefs would come here early in the morning to bag the best fish but there has always been plenty left for us home cooks.
Whales fish market sits right in the middle of the market and has what seems like an ever increasing supply of seafood. Fresh crabs, lobsters, scallops are all displayed over the ice cubed counters. Huge salmon from Scotland, fresh trout and mackerel are all available alongside dozens of other species. This is where to buy the best fresh fish in Manchester.
Explore Manchester's food scene

If you'd like to explore more of Manchester's food scene why not join one of our unique food tours. Over 3 hours we'll traverse the back streets of the city, stopping in at some of our favourite local businesses. Try dishes representing Manchester's past, present and future and meet the chefs and owners that feed the city. You can book your food tour here www.manchesterbites.com/tours.
Each tour supports the local food industry as well as our local tourism community.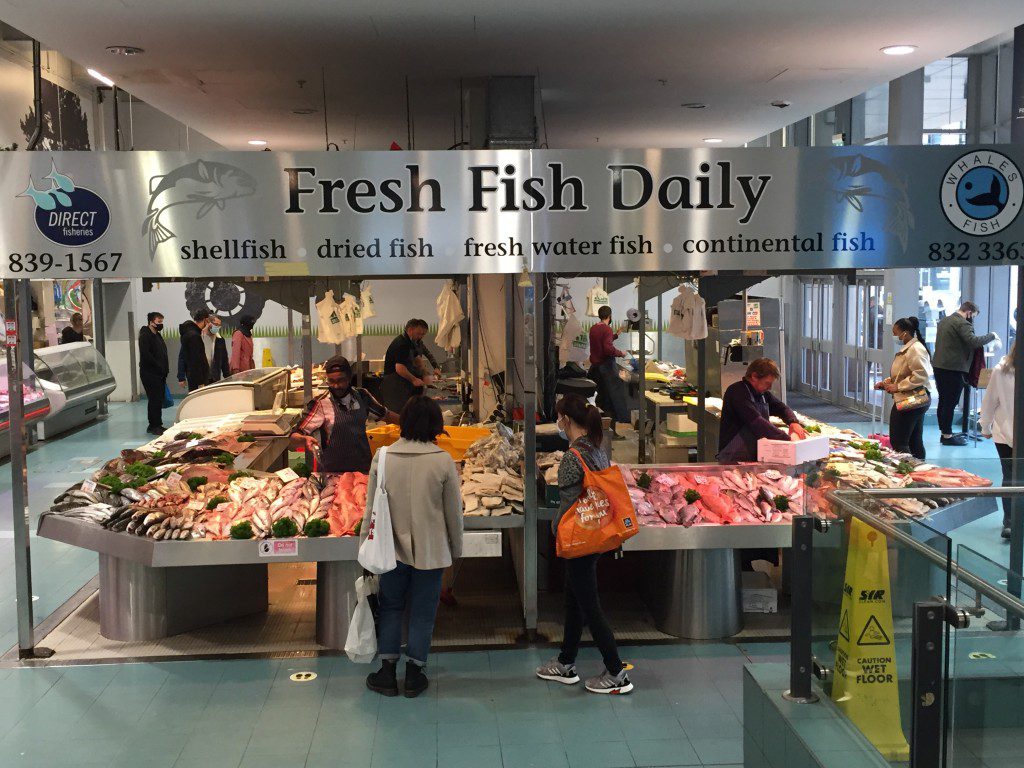 Food Tour of Manchester. Helping communities.
A food tour of Manchester not only takes you to hidden gems and places in Manchester. When you do a food tour you are also helping heaps of local businesses along the way. Think about it. A normal walking tour of any city is full of fun facts and interesting stories. During the experience your tour guide points out cool things and you learn a thing or two. But once the tour is over you have not actually impacted anyone along the way.

Taking a food tour not only gives you all of the fascinating stories, interesting facts and shows you hidden gems. A food tour also supports all of the local food businesses that you visit.
Helping our local food community

On our "Food that feeds the City" tour we visit 6 different food heroes. At each stop our guests are treated to a tasting (all included in the price). Each tasting tells a part of Manchester's story. For example we visit an Italian cafe and learn about the Italian community that thrived in and around Ancoats after the war. We will try one of their home made bites and the chef tells us about her family history and how they made it in Manchester.
Manchester has so many different ethnic communities and we are blessed with some serious food heroes from them. West Indian patties, Chinese dumplings, South Asian curries and our very own Mancunian creations can be found all over the city. It's our job to showcase the best of these to you on your food tour.
We often find that guests enjoy a certain place along the tour route. They will sometimes go back or even tell friends about this place This way we are not only helping the restaurants when we drop by during the food tour but also afterwards as well.
Constantly changing Manchester
Manchester is an ever changing city. Area's that were once derelict and run down are now buzzing with new apartments, exciting businesses and artisan eateries. Just look at Ancoats. Whether this is your first trip to Manchester or you're a local Mancunian there's always new things to see and do.
Taking one of our Manchester food tours keeps you in touch with the latest new places. Our guides are walking, talking fountains of Mancunian knowledge. We are always updating our food tour routes to keep up with the changing times. If you've never done a tour of Manchester before come and try us out. We promise you not only heaps of Manchester's best food but also tonnes of stories, facts, and some secret tips along the way.
How to book your Food tour of Manchester
You can easily book our food tour of Manchester by going to https://manchesterbites.com/our-tours/the-food-that-feeds-the-city-tour/
We are also not charging any extra fees at the moment for a private tour (minimum 2 people maximum 5). If you'd prefer to stay in your social bubble send an email to info@manchesterbites.com and we will arrange a private food tour just for your group.