Manchester Events 2023.
Manchester has a lot to look forward to in 2023. Here's our top 5 events that we can't wait for.
Ashes Cricket comes to Manchester.
Let's face it, we are very lucky here with sporting events. Football is our main passion but we're also blessed with rugby teams, golf courses and one of the country's best test match cricket venues. Australia are the visiting team this year and the test match begins on 19th July. There'll be a great atmosphere in the city and we're expecting a lot of hungry Aussies to join our food tours.
Manchester International Festival.
It's back. The Manchester International Festival begins at the end of June and is an 18 day festival full of events and performances. Since it's first edition in 2007 the festival has attracted some of the world's greatest artists to our city. Events are being announced as we get nearer the summer but keep your eye on https://factoryinternational.org/whats-on/mif-23/ and grab the most popular tickets first.
Manchester Music Festivals.
As everyone knows we love our music here in Manchester. Every summer the city is a hotbed of concerts and festivals. bands from around the world love performing here and we love having them. One of the most talked about gigs is Manchester's own The Courteeners playing at Heaton park in June. June also sees The Arctic Monkeys, Cold Play and Elton John in town.
New Places to eat.
Manchester's food scene id constantly evolving. 2023 promises some exciting new openings for our food scene. One that we're really looking forward to is Disorder in the Northern Quarter. We're excited because it's on our food tour route. It promises a mixture of Japanese bar food and Mancunian music. What more do you need?
Manchester Museum opens again in February.
The Manchester museum is over 130 years old and houses some amazing artefacts of natural and and human history. Over the past years the museum has undergone a £15 million refurbishment. The museum re-opens in February. Expect a Chinese cultural gallery, a dinosaur display and a Belonging Gallery which tells the story of the first climate migrants to arrive in the area.
There are literally thousands of events going on in the city this year. Plenty to look forward to. We love hosting our food tours and showing visitors some of our favourite eating places in the city. If you're coming to Manchester for an event we'd love to show you round. Find out more on our tours page and we'll hopefully see you this year.
The best pizza in Manchester.
The best pizza in Manchester has been a subject of great debate amongst locals and visitors alike over the past few years. The pizza boom that the city has experienced over the past decade has brought some of the country's finest artisans to our streets.
We've done the hard work and tried them all and here's some of our favourites.
Rudy's Pizza
Rudy's pizza consistently rates as one of the city's favourite pizzas. In 2015 owners Jim Organ and Kate Wilson opened their first site in Ancoats, where our canals to canapes food tour explores. Rudy's wood fired pizzas quickly gained a reputation and people flocked to the restaurant. 7 years on and Rudy's hasn't just expanded across the vity but now also has branches across the country.
One of the reasons for the amazing success of Rudy's is their attention to detail for their pizza. The neapolitan style was so strictly adhered to that even the ovens were sourced in Naples. The dough is double fermented over 24 hours giving the end result an authentic floppiness. Classic Margheritas sit alongside flavours like the Meridio which is a white pizza with butternut squash, chillis, red onion and sun dried tomatoes. Our favourite is the Cinghiale which has wild boar salami and nduja.
www.rudyspizza.co.uk
Nell's
The biggest compliment we can pay Nell's is that we've included them on some of our food tours. We were a bit nervous at first as we worried that people can easily find pizzas across the city and perhaps it's not why you'd join a food tour. However we repeatedly get rave reviews from our guests about the pizza. New York inspired, Manchester made is their tagline. The 100% organic English flour provides a crispy base that you just don't find on other pizzas in the city. Owner Jonny Heyes wanted to escape the strict rules of the Neaplitan pizza and create a unique Mancunian product. Over the years they've gone from strength to strength and have just opened up at Kampus.
Recently to celebrate 20 million downloads of one of his songs, Lewis Capaldi ate a whole Nell's pizza. The flavour was their speciality called "Do you Roni Honey" which is a pepperoni pizza with a drizzling of honey. If you haven't tried it yet, get down to Nell's and give it a go.
www.nellspizza.co.uk
Crazy Pedros

Crazy Pedros is an institution in Manchester. As the name suggests not much is normal in the world of Crazy Pedro and that's why we love it. These guys are serious about their pizzas. So much so that before they opened they tested no less than 20 different pizza doughs. The original Pedro's opened in 2014 on Bridge street and ever since they've been famous for their wierd and wonderful ingredients. World famous hot dog pizza, and the KFC pizza are amongst the favourites. One thing that Pedro's also shines at are their cocktails. The mix of great drinks, amazing pizzas and pretty low prices has made them a firm favourite across Manchester.
www.crazypedros.co.uk
Book a food tour of Manchester
We could go on forever talking about our favourite pizza joints in the city. Hopefully these 3 have given you a taste of what the city offers. One thing we know about Manchester is that we are blessed with hard working, creative chefs and owners who are opening up new venues all the time.
If you'd like to explore more of Manchester's food scene why not get yourself on one of our award winning food tours. We explore the Northern Quarter and Ancoats over a 3 hour period. Stopping off at 6 different food vendors along the way. Perfect for friends, family and even corporate groups. You can find out more about our canals to canapes tour here.
Team Building Food Tours
As 2022 comes to a close we are yet again busy hosting team building events in Manchester.
Our team building food tours are a unique alternative to the more mudane end of year get togethers.
Why sit in a dull restaurant or bar when you could be exploring the back streets of Manchester. Visiting some of the city's most loved food and drink establishments.

Each of our corporate tours are specifically tailored to suit your team's needs. One of our team will meet you and discuss all of your needs. From dietary requriements to even creating tours based on certain themes.

Our corporate tour team is on hand to make sure everything runs to plan and you and your team have a memorable experience.
Why a food tour is great for team building?
Food is always a great medium for people to bond and interact. Everyone has a favourite dish or cuisine and we all have memories that are evoked when certain tastes and smells hit our senses. As such hosting a team building event based around food is always a guarantee for a memorable, enjoyable experience for your team.

We've all been to those events where we need to step out of our comfort zones and in reality most people either don't show up or do the minimum we can.

With food everyone is equal. We all have likes and dislikes and everyone can fell comforatble and relaxed.
So how do we do it?
Over the past 2 years our team of food tour guides has been leading groups around Manchester city centre. Eating, drinking, sharing stories and generally having a great time.

We've got great relationships with local vendors, restaurants and bars and as such we can hire out places, have special dishes prepared and even host hands on experiences. We know where the best bites are and we know the people who make them.

We've hosted groups of all sizes and from all different types of businesses.

Anything's possible, just get in touch with us manchester@bitestours.com.Each of our corporate tours visits 6 locally run, independent businesses. So not only are you and your team having a unique Mancunian experience but you're also supporting the local food and drink economy.
How to reserve your team's next outing.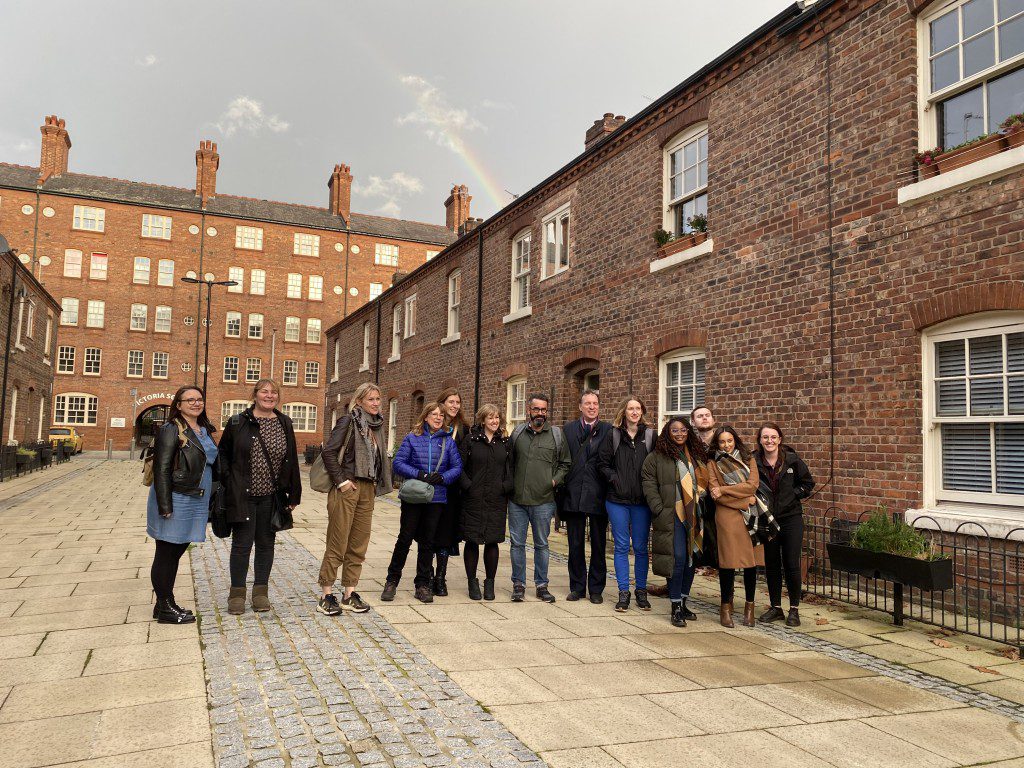 What do people eat in Manchester?
Manchester is one of the UK's most multi – cultural cities. So what do people eat in Manchester? From our world famous curry mile, to the new up and coming Mexican food trucks, you'll find us eating everything at all times of the day.
Manchester's food communities.
On our Canals to Canapes food tour we like to talk about the communities that have made their home here in Manchester. One of the most important communities is the Caribbean community. After world was 2 many residents of the Caribbean came over to England to start new lives. Moss Side, an area to the south of the city was the main focal point for the community and still remains so to this day. Of course these new immigrants brought their food with them and the west Indian food scene has been an ever present in Manchester ever since.
Back in the 70's and 80's if you wanted to sample some of the best West Indian cooking you'd often have to go to private houses. Many small businesses were set up in West Indian homes and finding them could be difficult. Taxi drivers were always a good source of information as to who was knocking out the best jerk chicken or curried goat. Today Manchester has a vibrant West Indian restaurant scene.
Places like Rad's in Ancoats feed their loyal fans until they sell out. Have a look here for some inspiration of where to get the best Caribbean food in the city.
https://www.manchestersfinest.com/eating-and-drinking/restaurants/get-best-caribbean-food-manchester/
Manchester's Chinatown
Another community who have thrived in Manchester is our Chinese community. Did you know that Manchester has the second largest Chinatown in the UK?
Chinatown is well worth a visit when you're in the city. Old favourites like the Yang Sing have been feeding us Mancunians some of the best Chinese food in the UK for generations. Over time and with new arrivals into the city Chinatown has also become home to some of the best Japanese and Thai restaurants in the North West.
English food classics
Whilst we love eating food from all over the world we also love our old school, local dishes. One of our favourite English dishes is the good old pie. The Great North Pie company are about to open up in the city centre and we can't wait to try their award winning beef and ale pie with some creamy mash potatoe and a pint of Manchester Ale.
Did you know that Manchester introduced vegetarianism to the UK? In fact, in the south of the city the vegetarian society runs weekly cooking classes. The city has some amazing vegetarian and vegan places. On our vegan tour we try out some of these spots. One of our favourites is V rev in Ancoats.
If you'd like to explore Manchester and some of it's amazing food vendors why not join our Canals to Canapes tour.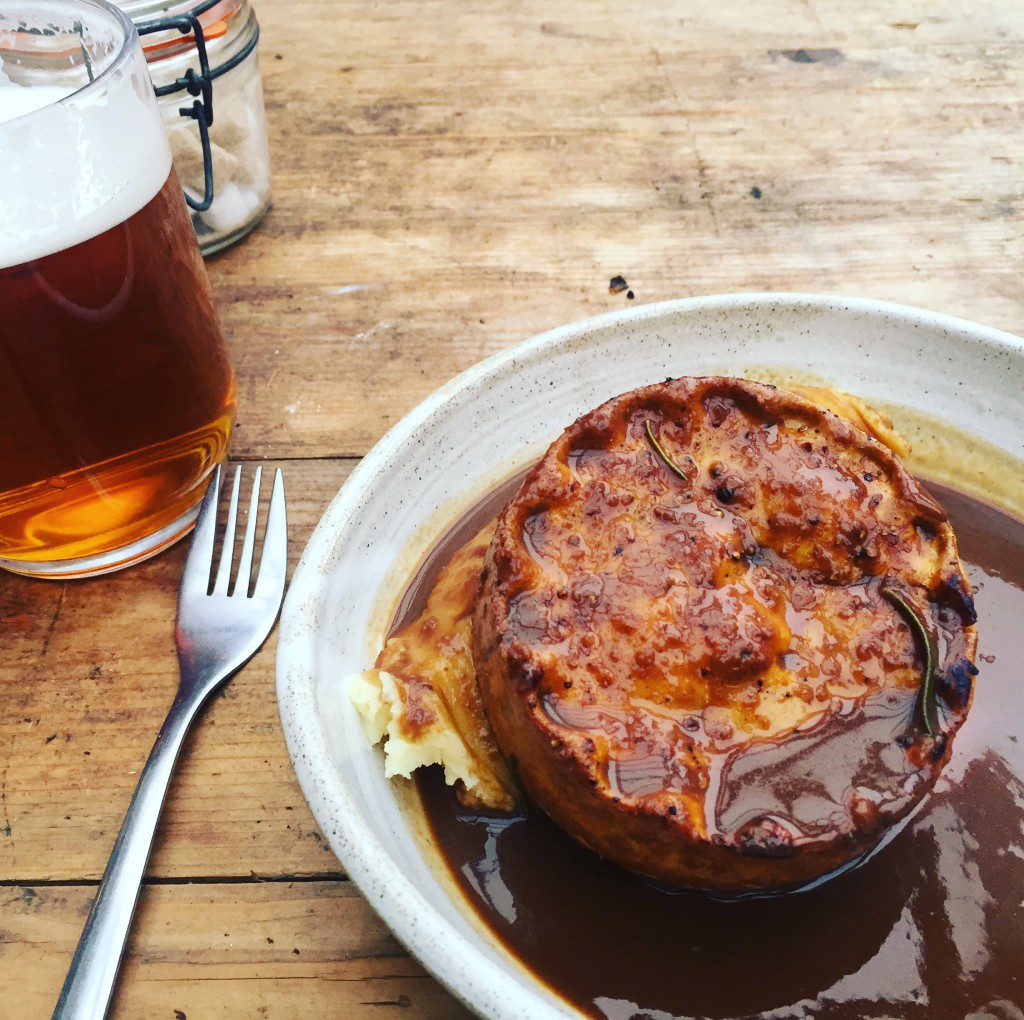 Mackie Mayor Food Hall: A Manchester Must-See
Manchester's food scene has come on in leaps and bounds in recent years. And one of the key players in the city-centre dining is the Mackie Mayor Food Hall. 
Housed in an 1858 grade 2 listed building that was one a part of the bustling Smithfield Market area, Mackie Mayor today houses an eclectic mix of food and drink vendors. From top-notch pizza at Honest Crust to amazing beers at Blackjack Brewery and Brewtap and quality, locally-sourced meat at Tender Cow, there's really something for everyone in at Mackie Mayor.
Sometimes we visit the food court on our From Canals To Canapés walking food tour of Manchester's Northern Quarter and sample some of the tastiest dishes on offer while exploring the history of the area.
Read on to learn more about this awesome food hall that blends historical charm with inventive, modern cooking. 
The History of Mackie Mayor
The building itself was once part of the Smithfield Market area. This neighbourhood of market halls and stalls ran from the early 19th century. Smithfield was a huge market site on the edge of the city that brought a whole community of consumers and producers together. And that's what the Mackie Mayor aims to do today.
During the market's heyday, the mayor of Manchester was called Mackie, so one of the market's buildings was inscribed with his name. 
Originally used as a meat market, the building ran into disrepair during the 1970s and its future seemed to be in grave peril. 
However, the building was one of the only surviving remnants of the former Smithfield Market. So its significance was thankfully recognised and developers Muse set about restoring and developing the site.
The Mackie Mayor Food Hall Today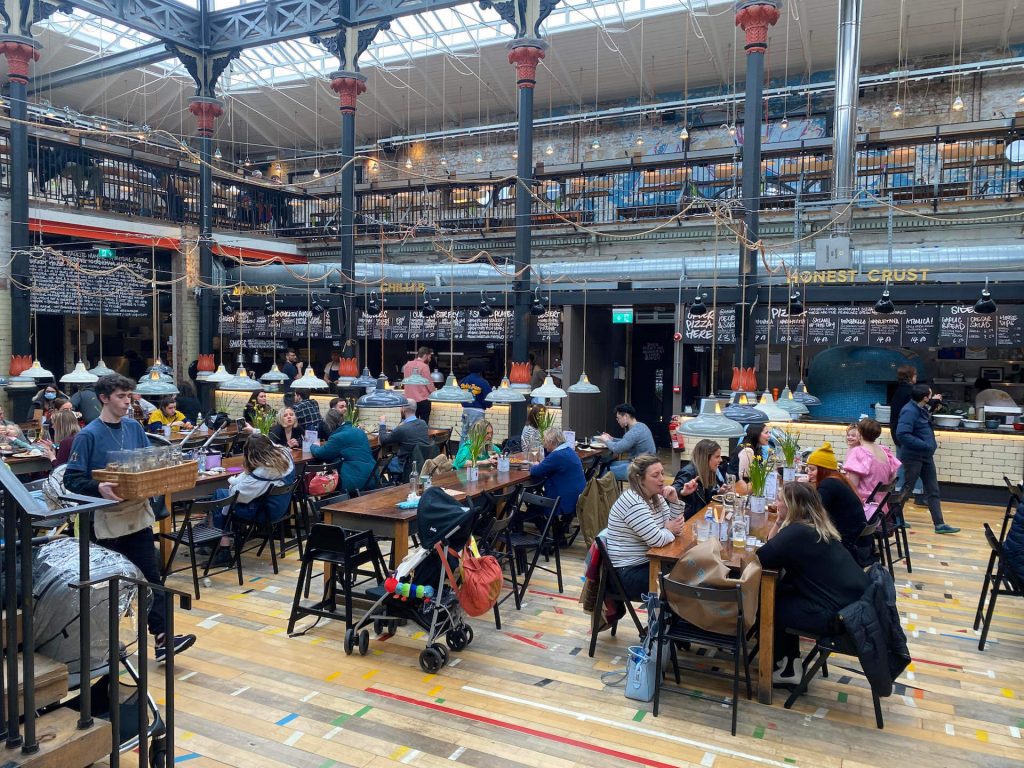 Today, Mackie Mayor has become an anchor point for Manchester's food and drink scene.
Throughout the week, it's a popular meeting point for office workers looking to grab lunch or some after-work dinner. While at weekends, the food court is busy from morning to night with shoppers, diners, and those out for a drink.
The strength of any food hall lies in the quality and diversity of the food being served. Mackie Mayor is home to a great mix of vendors. You'll find exciting drinks, healthy foods, international cuisine, and indulgent, comforting choices.
A well-brewed morning pick-me-up can be found at Atkinsons Coffee Roasters. And if you're feeling thirsty the Water Station offers sustainable, locally sourced and bottled waters. 
Enjoy craft beers from the Black Brewing Co. microbrewery, or explore a menu of wonderful wines at Reserve. If you're stopping for lunch, Pico's serves delicious tacos! They're perfect for sampling, with the chefs recommending you try about 3 tacos from the menu.
Elsewhere, New Wave Ramen, Chilli B, and Mumma's Fried Chicken are excellent options for a hearty dinner before a night on the town. All three vendors offer exciting vegan and veggie options, too. 
Meat-lovers can be assured of quality from the guys at Tender Cow who prepare delicious burgers and steaks. And if you're looking for pizza, look no further than the long-running Honest Crust. You can't miss their sourdough pizzas.
Check out vendor menus here. And follow the Mackie Mayor Instagram page for the latest news. 
Other Manchester Food Markets
Looking for similar food court options around Manchester? The owners of Mackie Mayor also own the Altrincham Market House, a short train ride from Manchester city centre. 
Like Mackie Mayor, you'll find great beers and wine, and food that caters to a wide range of tastes. And whether you're vegetarian, vegan, or perhaps just plain fussy, you'll have plenty to choose from. 
It's also worthwhile checking out the latest news from Altrincham Market House. It's regularly home to themed weekend markets covering regional food producers, vintage fashion and furniture, contemporary craft, and much else.
Elsewhere, you can visit Society MCR, the city's latest food hub. Offering exciting international street food and first-rate craft beers, there's plenty to explore in this new addition to the city's cultural scene. 
Again, variety is everything in a market. At Society, you'll find a marvellous selection of foods, from snacks to accompany your beers to satisfying meals from the likes of Slap & Pickle Burgers.
Another famous option is the Arndale Market, conveniently located within the massive Manchester Arndale shopping centre. The market offers plenty of tasty street food options and makes for a nice, vibrant place to take a break from shopping.
Finally, we want to give a shoutout to Hatch, an amazing confluence of creative Mancunian businesses (including more tasty food!). 
At Hatch, you'll find 30 independent retail, food, and drink traders that embody Manchester's famous creative brilliance. Grab something sweet, chat over a coffee or beer, and peruse locally-made crafts. 
Several of these spots feature on our list of the best places to visit in Manchester, with plenty more suggestions as well!
If you'd like to learn more about Manchester and its amazing food scene, book one of our foodie walking tours of Manchester today. Manchester bites food tours take you to our favourite hidden food gems of the city. Great for visitors and locals alike. 
If you have any questions for us about this blog or any of our tours or services, get in touch.
---
This post was originally written in June 2020 and updated in March 2022.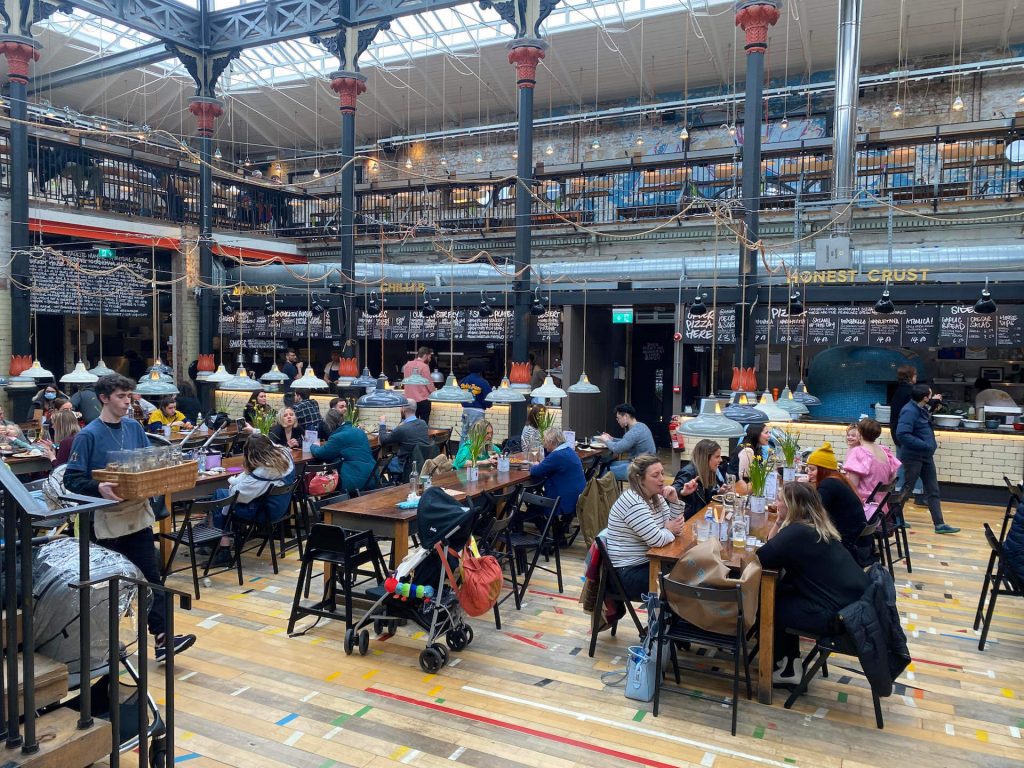 Best Manchester Eats: The Lancashire Hotpot
A lot of guests on our Manchester food tours ask us what are the most famous foods from Manchester? What is the typical cuisine of the region?
Well, given Manchester's famously – or, perhaps, infamously – drizzly weather, it should come as no surprise that we enjoy warming, hearty dishes.
Rich Bury Black Puddings are served at breakfast. Eccles Cakes make a fine accompaniment to a hot cup of tea. And an indulgent Manchester Egg is just the thing after a couple of pints!
But perhaps most beloved of all is the Lancashire Hotpot. This irresistible dish is so simple to prepare and makes a perfect choice on a cold night.
The History Of The Lancashire Hotpot
First, the name. Though Manchester today has its own council area, the city has historically formed part of the county of Lancashire. A fact witnessed in the city's sports, with Lancashire Cricket Club playing their home games just south of the city.

Hotpot is cloaked in a little more mystery. Does it refer to the pot or the style of food being prepared? The famous 1861 cookbook Mrs Beetons Cookery Book contains a recipe for a simple stew called 'Hotch Potch' and it's likely that hotpot similarly refers to any straightforward stew that can be cooked in a single pot.
The Lancashire Hotpot, like so many Manchester traditions, is bound to the city's history of work. Before industrialisation, many families would work at home spinning thread. A meal that could be left to slow-cook above a fire was most convenient.
Following industrialisation, this characteristic of the Lancashire Hotpot became even more important. A workforce was now leaving home for several hours at a time. The hotpot was a perfect meal as you could leave it on low heat to cook while you were out.
Hungry workers would race home at the end of a shift and find a hearty dinner awaiting them. Presumably, their home was also filled with the pleasing aroma of the stew.
Learn more about the city's starring role in Britain's Industrial Revolution with our From Canals To Canapés Manchester Food Tour.
So What Is A Lancashire Hotpot?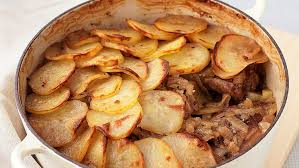 Well, three ingredients are essential for the Lancashire Hotpot: lamb, onions, and potato. Lamb refers to the meat of a young sheep, though mutton (cheaper cuts from older sheep) was traditionally used.
The lamb is slowly stewed along with onions, stock, and some flour to thicken. Thinly sliced potatoes are placed on top to act as a lid, sealing in the meat and veg. The dish is then cooked in the oven for an hour or so until ready.
Couldn't be any simpler! Although you will today find plenty of variation from the original three-ingredient recipe.
Carrots are often added to the stew, as are leeks and turnips. Historically, lamb's kidneys would also be added, though this is less common today.
The topping is also sometimes varied, with a pastry lid added instead of potatoes.

One notable absence from contemporary recipes is oysters. In early versions of the hotpot, oysters regularly formed part of the mix. By the 18th and 19th centuries in England, oysters were hugely popular and were added to all kinds of recipes.
During the 19th century, in particular, oysters were the affordable street food of choice (in the year 1864, over 700 million oysters were consumed in London alone). But due to over-fishing, oysters became the high-end delicacy we know today.

If you like seafood, check out our blog on where to buy the best fresh fish in Manchester.
The Perfect Dish for a Cold Manchester Day
So, why do we love our Lancashire Hotpot so much in Manchester?

Its simplicity means that a delicious Lancashire Hotpot can be made on a budget. This was a dish for working people and you won't need to break the bank to buy enough ingredients for a generous serving.
You don't need to have a wealth of cooking knowledge to prepare the dish, and, once in the oven, you're free to relax and get on with other things. You'll also get plenty of nourishment from a Lancashire Hotpot.
In an era in which we're repeatedly encouraged to reduce the number of processed foods in our diets, here's a meal that's packed with nutritional value and made only of a few fresh ingredients.

But perhaps more than anything, we love Lancashire Hotpot because of its place in the story of our city. It's been a staple of the Mancunian diet for a long time!
Travel through the city and you'll find pub after pub serving hotpots on their menus. If you find yourself caught up in one of our rain showers, take the opportunity to find the nearest pub and order a restorative portion of Lancashire Hotpot.
The Best Place in Manchester to Eat Lancashire Hotpot
If you want to enjoy a real manchester experience you should try Annies on Old Bank Street. It's our top choice for ordering a Lancashire Hotpot when in Manchester.

Owned by Jennie McAlpine, a star of the legendary Manchester soap opera Coronation Street, Annies offers a cosy setting and an array of classic British food.
In addition to an out-of-this-world hotpot, head chef Richard Moore includes many other local specialities on his menu, from sausage & mash to Bury Black Pudding, and steak & ale pie.

Those wishing to explore English culinary traditions further can also enjoy Afternoon Tea at Annies.
How to Prepare a Lancashire Hotpot at Home
Decided to spend a night in, or just love the thrill of cooking new dishes? Preparing a Lancashire Hotpot at home is low on effort, big on reward.

You have a wealth of recipes to choose from with almost every British celebrity chef having given their own version of the Lancashire Hotpot.
Excellent traditional takes on the stew can be found over on Kitchen Sanctuary or at BBC Good Food. And The Guardian's (another Manchester institution) How to Cook the Perfect Lancashire Hotpot makes for great reading.

And if you like testing the recipes of the famous tv chefs, you can find Jamie Oliver's take on a lamb hotpot here.
This brings to an end our guide to the Lancashire Hotpot, but sign up for our newsletter below and we'll keep you updated with our latest foodie news.

If you have any questions for us about this blog or any of our foodie walking tours of Manchester, get in touch.
---
This post was originally written in June 2020 and updated in March 2022.