The Manchester Egg: A Manchester Food Innovation
At Manchester Bites, we naturally like to talk about Mancunian food innovations. One such dish is, of course, the Manchester Egg. Never one to be left on the sidelines when something good happens, Manchester has developed its own savoury egg snack, a spin-off of the more famous Scotch egg.
If you like learning about the origins of different foods and the various cultural influences that impact our cuisine, you would love our Manchester food tours! Come join us for a walking tour of the city. You'll learn about the different people and places that have helped create the eclectic food scene we enjoy today.

What exactly is a Manchester egg?
Let's just jump right into it: A Manchester egg is a pickled egg wrapped in pork meat and black pudding (another Manchester favourite!). The egg is then dipped in breadcrumbs and fried. It's served warm, generally as a pub snack.
If you haven't yet tried a Manchester egg, then you'll need to seek one out during your visit to our fun city! You'll find them quite easily. But if you want to know where to find the best Manchester egg, then you really do have to ask the locals.
When we get talking about local foodie favourites, we just don't stop! So come join one of our tours to learn more about the city and to ask our expert foodie guides about the best places to try a Manchester egg…or any other foods you want to try here in the city!
The Story Behind the Egg
As with many great foodstuffs, the story of the Manchester egg begins in a pub.
A Mancunian called Ben Holden was enjoying a few pints with his mates in The Castle Hotel pub on Oldham Street. As we all often do, Ben enjoyed a few snacks to go along with his pint. His choice on this occasion: a pickled egg, a scotch egg, and a packet of salt and vinegar crisps.
It was then that the (glorious) idea hit Ben. What if he could create a hybrid of his three favourite snacks?
Well, Ben being true to his roots and being an industrious sort of lad, took off to the kitchen, and before long, he had perfected the original Manchester Egg.
We like to imagine Ben shed a prideful tear when he hit upon the recipe, then took himself out for a few celebratory pints.
A few weeks later, the egg was introduced to the regulars at The Castle. The dish was an instant success (Mancunians being people of discerning taste). Ben was quickly selling no fewer than 30 eggs a week. He knew he needed to get some help to satisfy demand.
At this point, Ben persuaded a local chef to lend him some kitchen space, and the eggs began to be made in larger and larger batches. Ben had cemented his place in the prestigious ranks of great Manchester innovators. And we certainly have our fair share since the industrial revolution started in Manchester!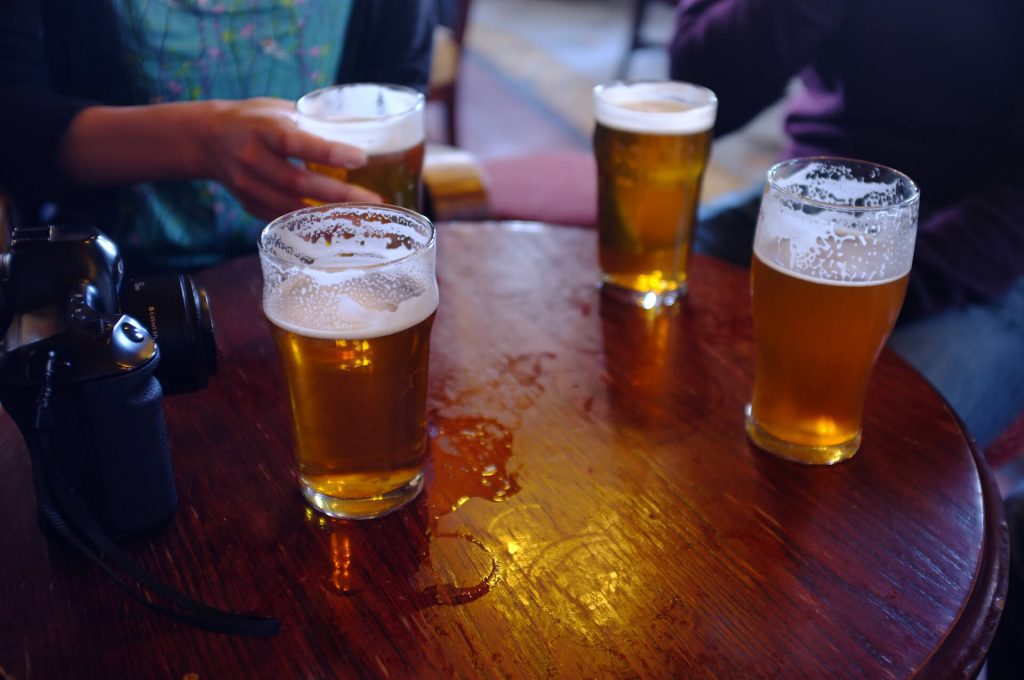 How to Make a Manchester Egg
While we do claim to be experts in all things Manchester food scene, that doesn't mean that we ourselves are chefs. In fact, we have great respect for the art and science that go into excellent cooking!
That said, we all like to dabble in the kitchen. So here's a Manchester egg recipe we found in The Independent that looks to hold fairly true. Of course, you'll have to be the judge yourself after you make it!
Mr Holden's Famous Manchester Egg
Makes 5
300g premium sausage meat
200g Bury black pudding
5 free-range pickled eggs (ideally pickle your own, but shop-bought work just fine)
Japanese panko breadcrumbs (from the Chinese supermarket or easily ordered online)
Salt and pepper
Beaten egg
Vegetable oil for frying
First, take the Bury black pudding and the premium sausage meat and remove the skin. Mix them together at a ratio of 60-40 (as per measurements above) with your hands (you have to boil the black pudding for a minute to soften it up; alternatively, ask your friendly local butcher to grind them together for you).
Next, wrap the mix around a pickled egg. The best technique is to flatten the mixture into a patty about 12cm in diameter and place the egg in the middle. Then fold the mix up around the egg.
I find Pandora's is the best pickled egg brand you can get from the supermarket – and the right amount of mix is around 100g per egg. Roll the mix into a perfect ball around the egg.
You then dip into the egg mix and roll it in the breadcrumb. (I also add a secret blend of my own Mr Holden's spice mix into the crumb. I can't tell you what the ingredients are, but have an experiment with spicing it up a bit. You can't go too wrong by just making sure the crumb has a good amount of top-quality sea salt and freshly cracked black pepper added).
Press down to make sure as much crumb is coating the egg as possible. For extra crunch, try double-dipping in egg and crumb for a really substantial bite.
Deep fry at 170C for 7-8 minutes and give it a moment or two to cool before tucking in.
Easy peasy.
Learn Manchester's Story Through Food
The Manchester egg is just one example of the many culinary delights you can thank our fine city for sharing with the world. There are plenty of things Manchester is famous for, including being a leader in the UK vegetarianism movement!
We love the Manchester egg, but our diversity of tastes and culinary preferences is as wide as the diversity of our people.
If you'd like to learn more about Manchester and its fantastic food scene, join us on a food tour. We love to share the hidden Manchester that's too often overlooked. We showcase our local food heroes and the stories behind the people that feed the city. Come join us!

This article was originally written in August 2020 and updated in February 2022.
Chinatown Manchester. Where to eat and some history.
Chinatown Manchester is the second biggest in the UK after London. It is right in the middle of the city, between Piccadilly gardens and St Peter's square. A great place to eat and shop for exotic groceries, it's a must visit when you're in Manchester.
A little bit of Chinatown history
In the early part of the 20th century Manchester welcomed it's first Chinese settlers. Many of whom worked in the laundry industry.This was the birth of Chinatown Manchester. After the second world war Manchester experienced a lot of immigration. People came from around the world taking advantage of the British Nationality Act. Britain needed more people for it's post war workforce. One group of people who came were the Chinese. Most came to Manchester from Hong Kong, the Cantonese region of China. As a result a lot of us locals refer to Cantonese food as Chinese food. In fact Chinese food comes in many different regional forms.
Manchester's Chinatown today
The most striking thing about Chinatown is Paifang archway on Faulkner street. This huge Chinese arch was built in China and shipped to Manchester in 1986 in 3 seperate parts. The arch is a gift to the Chinese community from Manchester City Council.
There are a lot of different restaurants to eat at around the area. You'll notice that it's not just Chinese restaurants. There's Thai, Vietnamese and even Japanese here. One reason for this is the local Asian grocery stores. You can buy things here that you can't find in normal grocery stores in the UK.
Where to eat in Chinatown
For many of us Mancunians we have our favourite go to places to eat in Chinatown Manchester. Old school restaurants like The Yang Sing on Princess street have been serving us for decades. Manchester's palate has matured over the years. We now have many speciality Chinese restaurants such as Hunan on George street. Here the food is from the Hunan area of China, so spicier than Cantonese food. There's also Red n Hot on Faulkner street for those looking for that Szechuan spice kick. Yuzu is a popular Japanese spot with a great sake bar.
Weird fact about Chinatown Manchester
On George street there is a small building called the Guardian Telephone Exchange. This was built in the late 50's and sits at the entrance to a 4 mile network of underground tunnels. The tunnels were to house officials and workers in the event of a nuclear attack during the cold war. Similar tunnels were in place in London and Birmingham. Apparently, the tunnels were dug by Polish workers. The Poles couldn't speak any English so there was less risk of anyone knowing they were there.
If you'd like to explore Manchester book on one of our food tours. Our food tours take you around the city centre on a 3 hour walking and eating adventure. We'll tell you the story of Manchester's communities and eat their food. Go to www.mancesterbites.com for more details.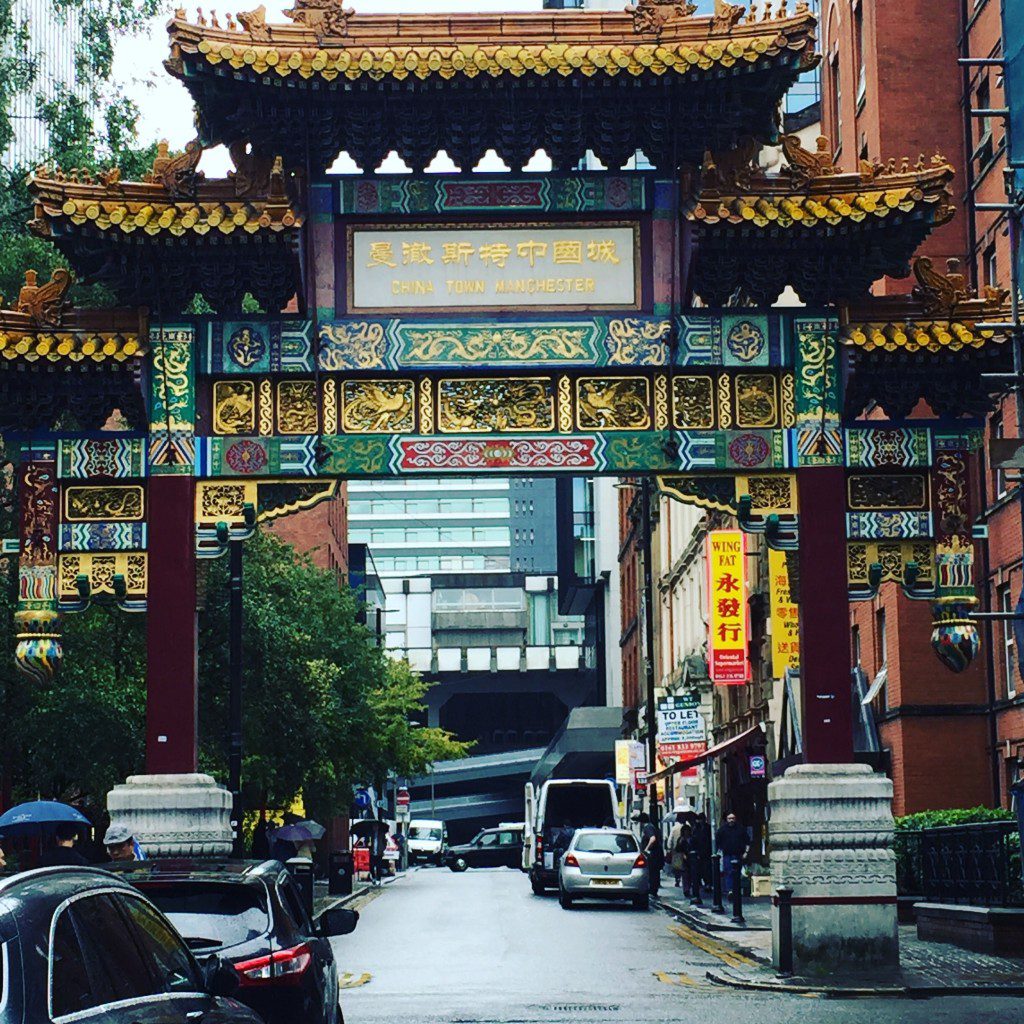 Pancho's Burritos. Manchester's Mexican street food.
Mexican street food is some of the best in the world. In Manchester we have one of the best Mexican street food joints in the whole of the UK, Pancho's Burritos. Pancho's can be found in the Arndale food court, just near the food market. We talk quite a lot about this hidden gem of a market in Manchester. It is tucked away at the back of the Arndale centre and as a result a lot of locals don't even know it exists. We go there on our food tour of Manchester and it's always a firm favourite.
How Pancho's burritos came to Manchester
Enrique Martinez is the man behind Pancho's burritos. He was born in Mexico city and was surrounded by some of the best street food in the world from an early age. Enrique had the opportunity to study in Manchester in 2006. It was then that he met his now wife Collette a local girl. After a few years living back in Mexico they both decided to move back over to Manchester and start a Mexican street food business. Pancho's was born.
Unlike a lot of small food businesses that have to move around the city, Pancho's has been in the Arndale since day one. Now ten years later they have a great reputation in the city. They now have a catering business and are busy every weekend with private events.
Their secret is to keep everything fresh. Salads, salsas, guacamoles, even the breads are made fresh daily. The UK public is now more aware of what authentic Mexican food is compared to Tex Mex gimmicks. Places like Pancho's are giving us that authentic experience and Manchester is a better place for it.
How you can enjoy Pancho's
You can find Pancho's at the Arndale food market in Manchester. Go in using the high street entrance.
If you'd like to learn more about Manchester, come and explore it on our food tour. Manchesterbites food tours tell the story of the city and the characters that feed us. www.manchesterbites.com for more info.
A Manchester food institution. This and That cafe.
One of our favourite places to visit in Manchester's Northern Quarter is the This and That cafe. This and That has been a Manchester institution since it opened in 1984. Not only does it serve some of the city's best curry dishes. It also epitomises the entrepreneur spirit of Manchester. Telling the story of South Asian immigrants introducing their flavours to us Mancunians.
A hidden gem in the Northern Quarter

This and That is hidden. It lies up a dark and dingy backstreet that looks like it's been derelict for decades. Ironically this street is called soap street. There's a small sign outside the restaurant that tells you you're in the right place but apart from that, nothing.
The restaurant opened in 1984 and became famous for serving rice and three. Basically a big helping of pilau rice and 3 different curries
At the time the area was mostly used by the cloth trade which was heavily run by Pakistani immigrants. It made sense to open a restaurant nearby to feed the hungry workers. It didn't take long for word to get out and soon enough the locals were eager to try the new flavours.


A bit of this and some of that
Indian and Pakistani food wasn't well known in the 80's like it is today. Most English customers used to just point at the dishes and say "I'll have a bit of this, and some of that." Hence the restaurant is called the This and That cafe.
In 2016 the restaurant received a bit of a makeover. The seating was extended to cope with the lunchtime crowds. Owner Ismail Mallu still works behind the counter dishing out the home made curries everyday.
If you'd like to explore Manchester and find places like This and That, book a food tour with us today. www.manchesterbites.com
The Arndale Shopping Centre. Love it or hate it?
Manchester's Arndale centre is a marmite building. You either love it or hate it. I think most of us hate it but have at least some fond memories of how it was when we were younger.
It was built in phases between 1972 and 1979. At the official opening the Mayor of manchester, Dame Kathleen Olerenshaw said disappointingly, "I didn't think it would look like that."
During the 80's a retail company called Arndale owned quite a few shopping centres around the UK. This was the biggest. In 1996 the IRA bomb was detonated right under the bridge that connected the Arndale to Marks and Spencers. Following this the centre was refurbished to look more like it does today.
Interestingly enough, in the 1970's there was a plan to build an underground railway station in the Arndale. The council had a plan to link Piccadilly and Victoria train stations via an underground line. Nothing ever came of this and today we have the metrolink.
It's not all bad, the food market is even on our food tour.
Manchester has an out of town shopping centre called The Trafford Centre. The Arndale however is still the busiest of the two.
We visit the Arndale centre on our food tour. In fact the best part of the Arndale is on our food tour. The food market is at the High street entrance, next to Shudehill. This is still a hidden gem in the heart of the city. When we were doing our food tour research we asked a lot of people if they knew this market existed. Suprisingly, a lot of local mancunians had no idea of its existence. Another great reason to take a food tour.
If you'd like to learn more about Manchester and especially the food scene, book a food tour with us. www.manchesterbites.com
For more information about Manchester's food scene follow our blog at www.manchesterbites.com/blog