Castlefield: What To Do In Manchester's Canal Basin
A great place to go on a Manchester summer afternoon is Castlefield. Situated at the southern end of Deansgate, Castlefield is a great spot for a few drinks and some lunch. The area sits in the city's historic canal basin where converted warehouses are now home to apartments, restaurants and bars.
As local travel experts based here in Manchester, we're always keen for visitors to explore more of this fascinating, diverse city. That's why we lead food tours in Manchester! We love to show off the incredible variety of cuisines and cultures that make up the heart of the city.
If you're looking for local things to do in Manchester and wanting to explore more of the real city, we'd love to show you around. For now, learn a bit more about the Castlefield area. Then you can plan your trip to Manchester and feel like a local.
A History Of Castlefield
Castlefield was the centrepoint of Manchester's earliest beginnings. A Roman fort was built here around 79AD and from this springs the city we know and love today. The name Castlefield itself represents the fort (castle) which was then surrounded by farmland (i.e. the field).
We've already explained what the people of Manchester are called, but it's these very Roman origins that give us the word we still use today for a person from Manchester: Mancunian.
Walking down Liverpool Road, you can see the ruins of Mamucium (the Roman name for Manchester) opposite the Science and Industry Museum. But ancient Roman ties isn't the only historically significant part of the area's story; in fact, Castlefield has remained at the heart of Manchester across the centuries.
A village developed and flourished in the area throughout the middle ages. Then, during the Industrial Revolution, the Bridgewater Canal, the world's first industrial canal, arrived in Castlefield. This area was the at very epicentre of the industrialisation of Britain, a process of change that would have a global impact.
Liverpool Road was also the site of the world's first passenger train service. In the 1830s, the route between Manchester and Liverpool opened here.
Sadly, after the boom years of the Industrial Revolution, Castlefield was to endure a period of neglect. The old warehouses and canals were left to ruin.
It wasn't until the late 1980s that life started to be breathed back into the area. Enterprising developers began to buy land around the canal basin. Soon, the old warehouses were turning into trendy flats and bars. The canals were cleaned up, and now it is common to see fish, ducks and other wildlife enjoying them.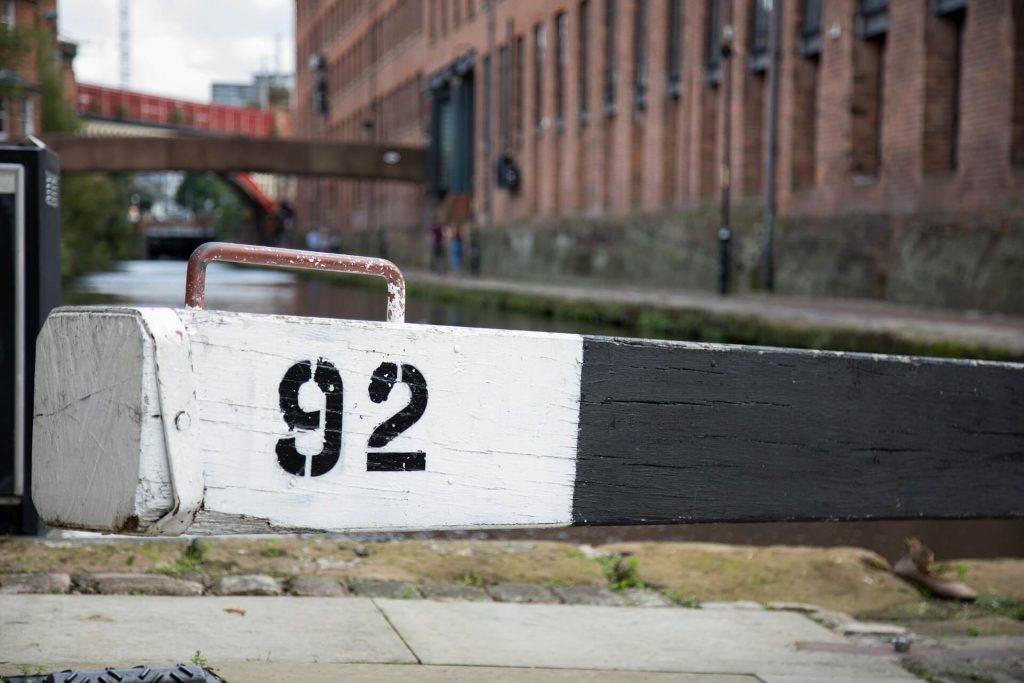 Things to Do in Castlefield Today
Castlefield is a hive of activity these days. The area around Liverpool Road is where you'll find the Science and Industry Museum and the old Roman Fort. We included the museum in our list of the best places to visit in Manchester, but there are loads more recommendations there for you to enjoy!
There is also a great bar near Castlefield called Cask, which has a fantastic array of craft beers to enjoy. Further towards the canal, you'll find the Castlefield Bowl. This outdoor arena has a capacity of 8,500 and is excellent for live music.
Around the canal itself, there is a bar called Dukes 92. The name comes from the bar being housed in a converted warehouse next to the 92nd lock on the Bridgewater Canal. During the summer months, the huge outdoor space is full of Mancunians soaking in the sun with a few cold beers.
When visiting Manchester, take a walk around the basin in Castlefield. There, you'll be sure to find some great photo opportunities and excellent people-watching.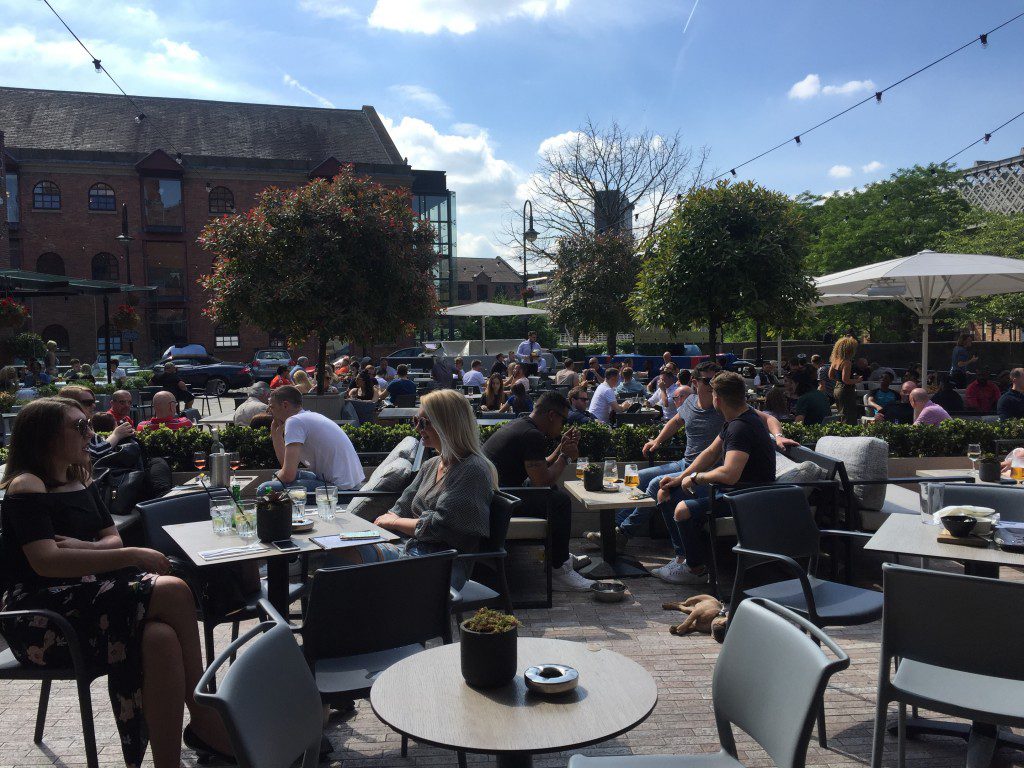 How to Get to Castlefield in Manchester
Castlefield is straightforward to find once you're in Manchester. You can get the tram to the Deansgate – Castlefield stop and then make the 1-minute walk to get there.
It doesn't get much more convenient than that!
If you'd like to explore Manchester in a unique way, come and join one of our food tours at Manchester Bites. We love to tell the tales of the communities that built this great city. And, of course, we taste some of our favourite dishes along the way. If you have any questions about our tours or about Manchester, feel free to get in touch!
This article was originally written in August 2020 and updated in February 2022.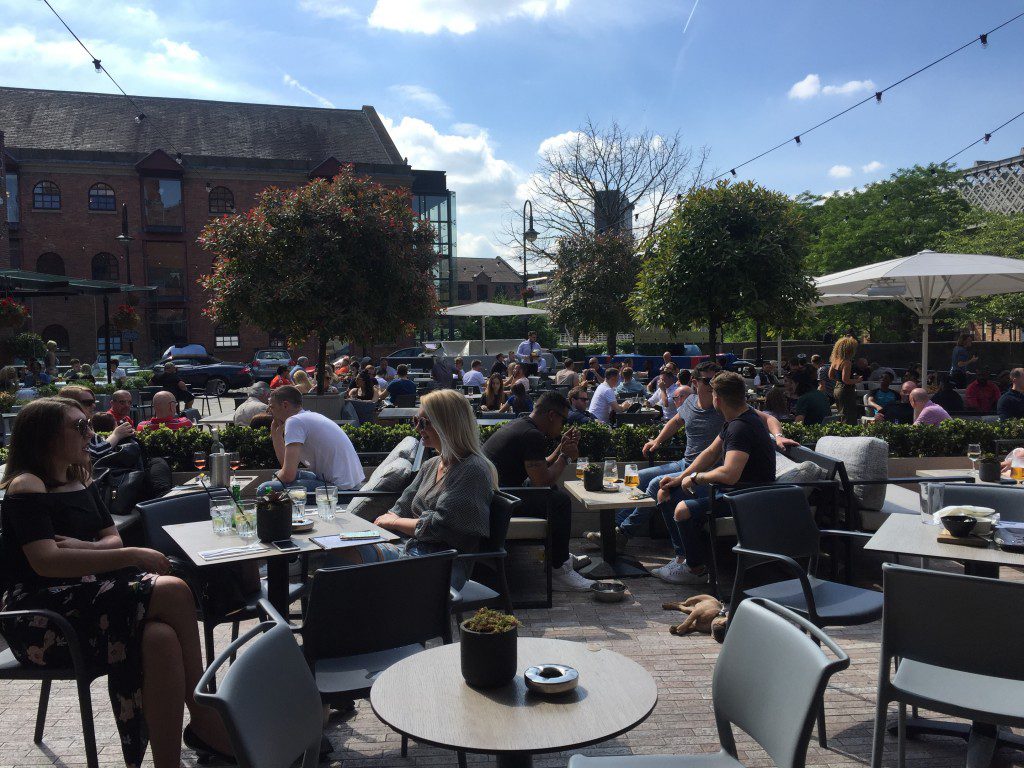 When can we visit Manchester? Our food tours are "Good to Go" certified.
When can we visit Manchester, or anywhere in the UK? That's the question we're all wondering about at the moment.
Manchester, like the rest of the UK is currently in our 3rd period of lockdown. We are once again all sat at home, working on our laptops or catching up on Netflix.
It looks like this situation will remain like this until at least March. Hopefully then the vaccine will have been effective enough and we can all look forward to a summer like no other. Until then though Manchester Bites food tours have been put on hold. Instead we are designing new experiences and spending time in our kitchens trying to replicate some Manchester food favourites.
The Good to Go Certificate
There is some good news though.
We are pleased to announce that Manchester Bites food tours have received the Good to go certificate from Visit England tourist board. The certificate is given to tourist businesses who have adhered to all covid guidelines to ensure a safe and comfortable experience for their guests. Observing social distancing, wearing masks when necessary and providing hand sanitizers and gels.
These have become the way of life for tour operators all over the world. Visit England is keen to promote those businesses that are serious in looking after their guests. We are delighted to be recognised as such.
So, when can we visit Manchester?
All being well it looks like restrictions will begin to ease sometime in March. There will more than likely be a slow easing with areas dropping tiers every few weeks. Our first guests will be domestic tourists from around the UK. We can't wait to show you our Manchester and the food that feeds us all. We'll be re-opening for bookings soon enough. You can book your future food tour at www.manchesterbites.com/tours

Until then stay safe and we'll see you all soon.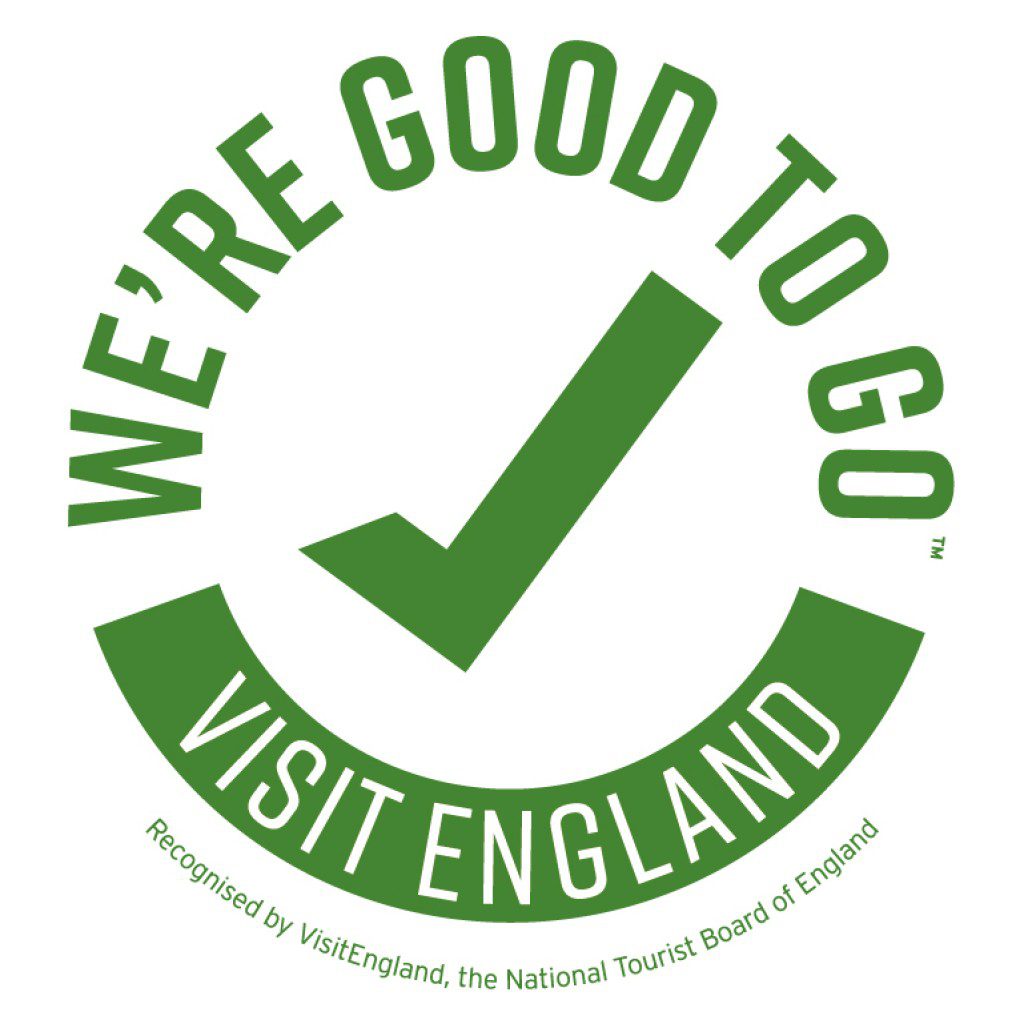 Pancho's Burritos. Manchester's Mexican street food.
Mexican street food is some of the best in the world. In Manchester we have one of the best Mexican street food joints in the whole of the UK, Pancho's Burritos. Pancho's can be found in the Arndale food court, just near the food market. We talk quite a lot about this hidden gem of a market in Manchester. It is tucked away at the back of the Arndale centre and as a result a lot of locals don't even know it exists. We go there on our food tour of Manchester and it's always a firm favourite.
How Pancho's burritos came to Manchester
Enrique Martinez is the man behind Pancho's burritos. He was born in Mexico city and was surrounded by some of the best street food in the world from an early age. Enrique had the opportunity to study in Manchester in 2006. It was then that he met his now wife Collette a local girl. After a few years living back in Mexico they both decided to move back over to Manchester and start a Mexican street food business. Pancho's was born.
Unlike a lot of small food businesses that have to move around the city, Pancho's has been in the Arndale since day one. Now ten years later they have a great reputation in the city. They now have a catering business and are busy every weekend with private events.
Their secret is to keep everything fresh. Salads, salsas, guacamoles, even the breads are made fresh daily. The UK public is now more aware of what authentic Mexican food is compared to Tex Mex gimmicks. Places like Pancho's are giving us that authentic experience and Manchester is a better place for it.
How you can enjoy Pancho's
You can find Pancho's at the Arndale food market in Manchester. Go in using the high street entrance.
If you'd like to learn more about Manchester, come and explore it on our food tour. Manchesterbites food tours tell the story of the city and the characters that feed us. www.manchesterbites.com for more info.
Altrincham Market House: Things to Do in Manchester
A Community Revitalised…
The revival of the Altrincham Market is nothing short of remarkable. From 1290 (yes, 1290!) the market had been at the centre of community life in Altrincham. Throughout the centuries, the market would have been where townsfolk gathered to buy goods, make a living, and spend time in the company of their neighbours.
And yet, the second half of the 20th century brought a period of stagnation. With the fortunes of the town on the downturn and the population size decreasing year over year, the historic market was being run by the council with little love or care. In fact, around a decade ago, Altrincham was voted as having the worse high street in Britain.
So, what has changed?
Well, Nick Johnson came onto the scene. Nick was a property developer and saw something in Altrincham that others failed to spot. In 2013, he won the contract to run the market and quickly set about changing the face of it and in turn Altrincham.
Listen to Nick's fascinating account of how he came to the project in the excellent documentary below.
Nick gave the Victorian building a makeover. Cleaning it from top to bottom and restoring some features that had been neglected. He then got to work contacting some of the area's best, local food vendors.
Nick did the same in Manchester city centre with the Mackie Mayor food hall, the big sister of Altrincham Market House. We previously wrote about Mackie Mayor here.
Food and Drink at Altrincham Market House
Since it reopened in 2014, locals and visitors have filled the food hall week after week, and it should come as no surprise – the food on offer is second to none!
Market House is home to 10 indie food stalls, including Honest Crust, Wolfhouse Kitchen, Tender Cow, Jack in the Box, Reserve Wines, Great North Pie Co., Sam Joseph, and Market House Coffee.
Jack in the Box is an award-winning producer of real ale and cider that operate across the Mackie Mayor and Altrincham Market Houe locations. Serving tasty beers from the Blackjack Brewing Co. and other guest breweries, Jack in the Box is the perfect place to catch up with a friend while enjoying a locally-produced brew.
Meanwhile, Honest Crust serves up magnificent sourdough pizzas cooked in a tiled oven imported from Italy. While there is now a wealth of options for great pizza in Manchester, Honest Crust has proved themselves to be stalwarts of the scene. If you fancy eating a perfectly cooked pizza in an atmospheric setting, look no further than Honest Crust at Altrincham Market House. 
Looking to eat some traditional northern fare while in the Manchester area? You can't go wrong with the Great North Pie Co. at the Alty. Having started in a residential kitchen, the Great North Pie Co. has bloomed into one of England's best producers of pies, having amassed several awards and nominations along the way. Cold day out? There's no better English comfort food than a serving of pie and mash!
Shops and Events at Altrincham Market
A big part of Altrincham market's success story is in how the market has really brought a fresh buzz to the town. In fact, Altrincham was recently voted as one of the best places to live in the UK and the market has surely played a part in that.
Throughout the week, you can buy food from local food suppliers, including award-winning butchers, greengrocers, bakers, and fishmongers.
Additionally, there are other regular stalls selling clothes, hand-crafted jewellery, furniture, and much else besides.
Each weekend, Altrincham Market has a different theme, providing locals and visitors alike with plenty of variety throughout the year. Themes include craft and design, vintage, and food (similarly, focused themes apply to the days of the week too) – head to Altrincham Market's Facebook page for the latest events listings.
Getting to Altrincham Market
Located eight miles outside of Manchester, the Altrincham Market is well connected and easily accessible.
The fastest and most convenient way to get from Manchester city centre to Altrincham is by tram. Altrincham is on the Metrolink's A and B. The journey from Manchester city centre will take around 30 minutes.
If you prefer to take the bus from Manchester city centre, the 16, 41, 108, 263, and 264 services all head to Altrincham. The journey will take you around an hour.
Trains are also fairly regular, with departures taking place each hour from Manchester Piccadilly on the Mid Cheshire line.
Finally, if you are driving, the journey should take no more than 30 minutes. 
When is Altrincham Market Open
The Altrincham Market House (Food Hall) is open Tuesday – Saturday 9 am – 10 pm, and Sunday 9 am – 6 pm.
Alty Market (Outdoor Market Section) is open from 8 am to 4 pm on Tuesday, Friday, and Saturday. 8 am to 3 pm on Thursday. 10 am to 4 pm on Sunday.
This brings an end to our short guide on Altrincham Market House. If you have any questions or queries, don't hesitate to get in touch!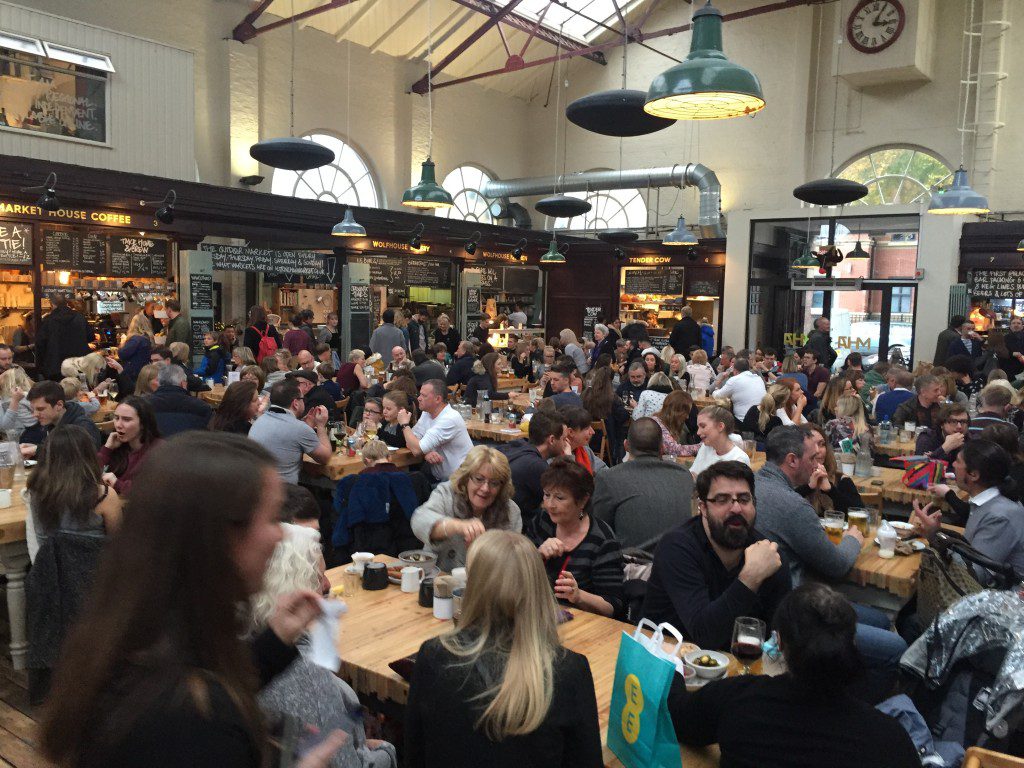 Manchester food tours. The Eccles Cake.
On our Manchester food tours we love showing off home grown Manchester food creations. The Eccles cake is perfect for a snack or even as a desert. So here's the story of one of our favourite Manchester foods.
What is an Eccles Cake?
An eccles cake is a small butter pastry cake filled with currants and some spices. Cinnamon, nutmeg and cloves are commonly used. It's more of a pastry than a cake but we call it a cake. The Eccles cake will often be covered in sugar for that extra sweet taste. Traditionally in Eccles they would be eaten with a few slices of Lancashire cheese. They go well together you should try it.
The history of the Eccles cake
People have been scoffing down eccles cakes since the 1600's. The cakes are named after the town Eccles which is about 2 miles west of Manchester city centre.
It is believed that they were made to celebrate St Mary's day. The church of St Mary in Eccles used to hold large festivals in those times. They were called the Eccles Wakes and it was here that the Eccles cake was born.
The cakes became so popular that during the Puritan years (where basically fun was illegal) they were banned. Oliver Cromwell even brought in an act of parliament threatening imprisonment for anyone seen eating an Eccles cake.
The cake that need a health and safety warning
In more recent years the Eccles cake has come to fame for causing a rise in home kitchen fires. The Lancashire fire brigade had to warn the public not to microwave them. The sugar topping was exploding in the microwaves and causing kitchens to burn down.
One of the most famous producers of the cakes are Real Lancashire Eccles Cakes. They make the cakes here in Manchester and ship them all over the world. You can find their cakes in most supermarkets in Manchester.
Manchesterbites food tours are the best tours to explore Manchester and it's food. If you'd like to book a tour go to www.manchesterbites.com/tours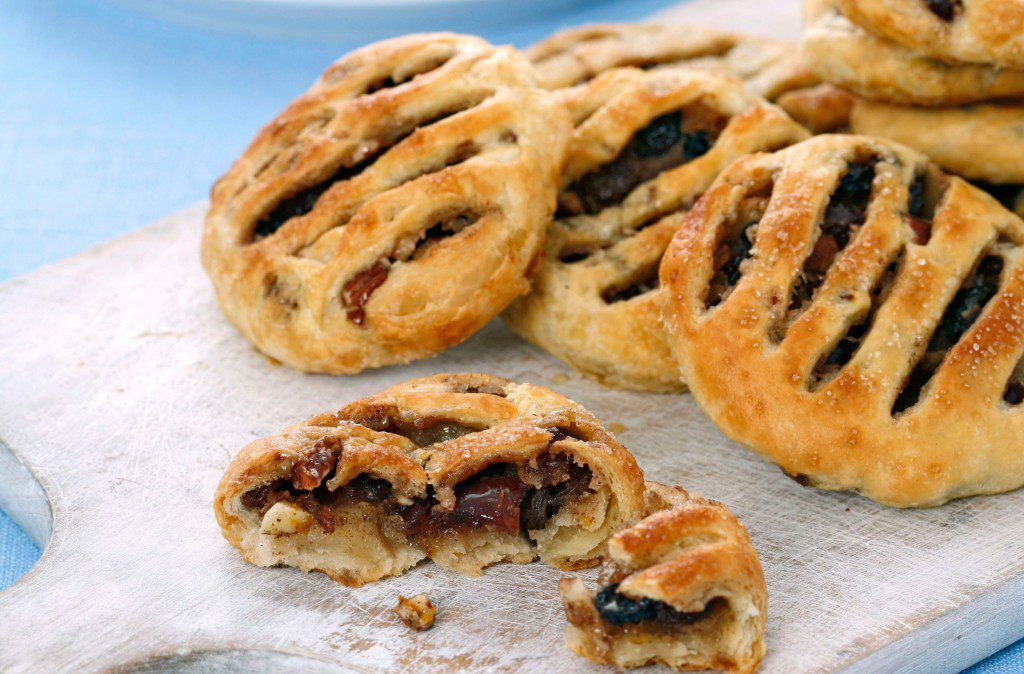 Vimto: A Manchester Innovation
Manchester has a long history when it comes to inventing things. The computer, graphite, commercial railways, indie music, football…the list goes on and on. One of our food and drink gifts to the world has been Vimto.
If you've never tried it, Vimto is a fruit-flavoured soft drink with true cult status. It contains grapes, berries and blackcurrants (and also, admittedly, lots of sugar).
In the UK we have a similar drink called Ribena. If you speak to anyone from Manchester you'll realise that we are If Ribena is the UK's most iconic berry flavoured drink, Vimto is the stylish person's alternative choice.
Preferred in Manchester to just about any other soft drink, Vimto's reputation across the rest of the UK tends to be defined by people who haven't tried Vimto, and people who love Vimto and champion it at every opportunity!
A History of Vimto
At the start of the 20th century, a man called John Nichols used to sell herbs, spices and medicines in Manchester. He developed the recipe for what he called Vim Tonic. It was originally a medicinal drink but came to be regarded as a soft drink in 1913 and with that, the name was shortened to Vimto.
Due to the popular temperance movement of the period, which encouraged people to lead teetotal lifestyles, soft drinks were all the rage. And Vimto successfully made a name for itself within this culture.
It wasn't, though, until the 1990s that Vimto really established itself as the trendy person's booze-free tipple of choice. British culture in the 90s was defined by a slightly unruly, anti-establishment attitude. With Brit Pop acts like Blur, Pulp, and Oasis (yes, another Manchester export!) at the top of the charts, and anarchical TV shows like TFI Friday and The Word being watched by millions, anything too middle-of-the-road was, well, a bit naff.
Well, the marketing guys at Vimto had their finger on the pulse because the brand enlisted the perfect representative to advertise their brand: the slightly rude cartoon poet, Purple Ronnie. Created by writer and illustrator Giles Andreae, Purple Ronnie became a rogueish, much-loved figure on British TV, famous for his love of partying and innuendo-laden poems. One of his rhymes went as follows:
Vimto is a smashing drink
So why not have a slurp?
It's full of fizzy bubbles
To make your bottom burp
In 2003, Purple Ronnie walked off into the sunset and Vimto adopted the new slogan "Shlurpling the Purple".
Vimto in the Middle East, and Around the World
Over the years the popularity of Vimto has gone from the Manchester streets to all around the world. An interesting tale relates to the Middle East and the Arabian Peninsula. During Ramadan, the drink becomes incredibly popular. This is probably due to the high sugar count helping people through their daily fasts. The Arabian Peninsula is the biggest foreign market and sales boom during the holy month, with the drink being the biggest selling beverage in certain countries.
Vimto's popularity in this part of the world stretches back an impressive 80 years, and that popularity only seems to be growing.
Variations of the Drink
The good people at Vimto have never rested on their laurels, and throughout the drink's history, many different varieties have been introduced. The standard Vimto is sold in both pre-mixed carbonated and cordial versions, with the latter being the more popular choice. In the winter months, the cordial version is often added to hot water to create a sweet, warming drink.
Through the decades Vimto has also released jelly babies, ice lollies, and other sweets featuring the distinctive brand flavour. And the drinks range often makes room for limited edition guest flavours, such as Cherry Vimto and Strawberry Vimto.
For those who haven't been inspired by Vimto's early temperance movement origins, you can use the drink as an inspiration and make a pretty moreish cocktail known as a Cheeky Vimto. Although the cocktail doesn't feature actual Vimto as an ingredient, the blending of port wine and Blue WKD creates an alcoholic drink that captures something of Vimto's unique berry blast.
Finally, if it's sunny out, you may want to toss Vimto into a blender with ice cream and milk to create an indulgent Vimto milkshake.
The Vimto Statue
Anyone wanting to explore the culture surrounding Vimto in Manchester today should head to Granby Row in Manchester city centre where they'll find a massive wooden sculpture of a Vimto bottle. This massive tribute to a Manchester classic is always a popular stop on our food tours of Manchester.
Would you like to learn more about Manchester and its incredible food scene? Are you looking for the best things to do in Manchester? If so, book a food tour with us and let us show you our city!
If you have any questions or comments regarding our tours, please get in touch.