New Century Hall.
New century hall is a name synonymous with Manchester's music scene.
Built in 1963 the venue played host to names like Jimmy Hendrix, The Bee Gees, The Rolling Stones and Tina Turner. It was famous for having both excellent acoustics and a sprung dance floor.

As Manchester's music scene changed the venue hosted many an acid-house party in the 80's.

It was in the latter part of the 20th century that the area around New century hall became an almost forgotten part of Manchester. While other parts of the city were being developed the area we now know as NOMA was very much left alone. Businesses moved to more attractive area's and the New century development was left behind.

Last year a relaunch occurred and once more New Century hall was on the lips of those in the know of where to go. Being a listed building has meant that many of the original interior remains. The dance floor is still the original spring version. The lights still date back to the early 60's.

The line up will always be eclectic. The bard of Salford John Cooper Clarke has performed here since the relaunch. As have countless up and coming bands as well as some more familiar names such as The Charlatans. It's a venue that is breathing new life into an already thriving music and art scene here in Manchester.
New Century Food Hall
New Century hall is also where you can find one of Manchester's newest food and drink venues. Right underneath the dance floor on the ground level is New Century Kitchen.

8,000 square foot of independent food and drink retailers make this a must see destination for any food lovers in Manchester. Local names such as Spice Yard and Zumuku sushi are firm favourites with the crowds. In the centre of the kitchens you'll find a bar offering local beers and spirits and some great inernational choices as well.
Evening Food Tour
We've been asked by quite a few of our clients if we'd put together and evening food tour of Manchester. New Century hall is going to be the starting point for this new project. Amazing, local food in one of Manchester's most historical buildings. What's not to love?

To reserve your spot on our new evening food tour, send us an email and we'll share all of the information.
The story of Frank Sidebottom.
A Mancunian legend with a papier – mache head. But what is the story of Frank Sidebottom? Here we take a look at Frank's creator Chris Sievey.
The days before Frank Sidebottom
Chris grew up in Sale which is a suburb to the south of Manchester. He was originally a musician although not a very successful one. He had partnerships with various musicians in the 70's and 80's. He started a band called The Freshies. They had some local success with a song with a fantastic name. I'm in love with the girl on the Manchester Virgin Megastore checkout desk. The record got to number 54 in the charts.
The creation of Frank Sidebottom
Frank Sidebottom was created in 1984. Frank was a 35 year old aspiring pop star who still lived with his mum. He lived in the south Manchester village of Timperley. Frank always dressed in a sharp suit but was most recognisable for his huge head. This was originally made from papier – mache and later fibreglass.
During the late 80's and 90's Franks popularity in Manchester grew. He would regularly appear on the comedy circuit and even had his own TV show. Frank Sidebottom's fantastic shed show was first broadcast in 1992. He was a cult figure and would appear on late night music shows along top artists. Sometimes they didn't know what to make of him.
One Manchester's most unique statues.
Sadly Chris died in 2010 and with him took the story of Frank Sidebottom. In 2013 a statue of Frank Sidebottom was unveiled right in the heart of Timperley village. As you can see it is a pretty unique statue. Frank was afterall a pretty unique character.
You can visit Timperley and have a photo with the statue by taking the metrolink south. While you're there make sure to pop into the Quarry Man pub. They do a great ploughman's lunch.
Join our mailing list and keep up with all things Manchester. If you'd like to explore more of Manchester join our food tour. www.manchesterbites.com for more details.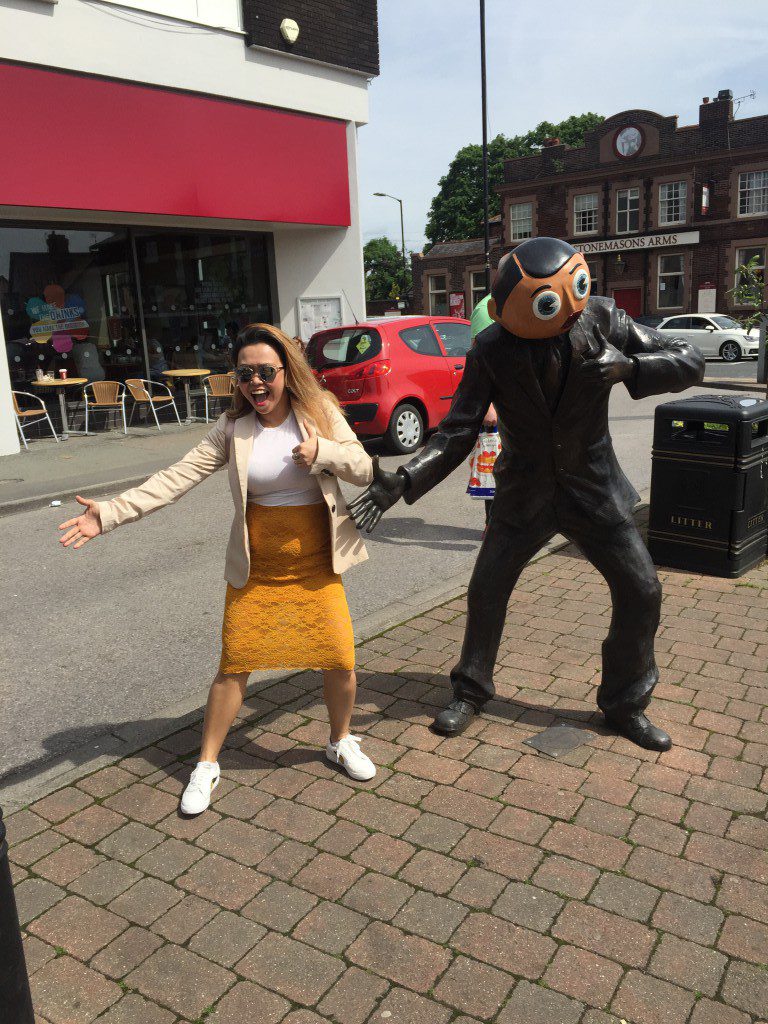 Manchester's Free Trade Hall. And that Dylan concert.
We are lucky to have numerous historical buildings in Manchester city centre. One such building that you can visit is Manchester's Free Trade Hall. Built in 1856 this grade 2 listed building stands on the site of the Peterloo Massacre. Originally the building was used as a meeting place for the local business community.
It had a vital role in the repealing of the corn laws. The corn laws meant that imports of grain, corn and wheat were taxed. This meant that landowners in Britain could charge a higher price for their corn. As a result it became more expensive to eat. Over time many urban centres such as Manchester rose up and rebelled against the law. The Free Trade Hall was Manchester's epicentre for anti corn law demonstrations.
Fast forward to December 1940. Manchester was under attack from the German Luftwaffe. The Free Trade Hall suffered great damage. Only the frame of the building survived. In the 1950's the hall was re-built behind the original outer wall.
A centre of Manchester's music scene.
The Free Trade Hall became home to Manchester's Halle Orchestra. In fact it continued to be their home right up until 1996. That is when the Bridgewater Hall took over. It wasn't just classical concerts that the hall held. One of the most famous episodes in the hall's history came in 1966.
Bob Dylan was touring the UK and at the time was causing quite some controversy. Dylan was using an electric guitar which was seen by many of his fans as distasteful. At a gig in the Free Trade Hall on 16th May, Dylan was heckled and called "Judas" by a concert goer. Many fans started to slow clap and some even walked out. Dylan kept going. He knew what he was doing was changing the face of music at the time. In 1998 Dylan released the recording of the gig. Manchester bands such as The Fall, The Smiths and Joy Division all say they were heavily influenced by this event.
Today the Free Trade Hall is a Radisson Hotel. You can still go in and admire the stunning entrance hall and enjoy a drink at the bar.
If you are interested to know more about Manchester and it's incredible history, book a tour with us. Our food tours take in some of Manchester's best local bites as well as a wealth of history and culture. To book a tour go to www.manchesterbites.com