A Manchester food institution. This and That cafe.
One of our favourite places to visit in Manchester's Northern Quarter is the This and That cafe. This and That has been a Manchester institution since it opened in 1984. Not only does it serve some of the city's best curry dishes. It also epitomises the entrepreneur spirit of Manchester. Telling the story of South Asian immigrants introducing their flavours to us Mancunians.
A hidden gem in the Northern Quarter

This and That is hidden. It lies up a dark and dingy backstreet that looks like it's been derelict for decades. Ironically this street is called soap street. There's a small sign outside the restaurant that tells you you're in the right place but apart from that, nothing.
The restaurant opened in 1984 and became famous for serving rice and three. Basically a big helping of pilau rice and 3 different curries
At the time the area was mostly used by the cloth trade which was heavily run by Pakistani immigrants. It made sense to open a restaurant nearby to feed the hungry workers. It didn't take long for word to get out and soon enough the locals were eager to try the new flavours.


A bit of this and some of that
Indian and Pakistani food wasn't well known in the 80's like it is today. Most English customers used to just point at the dishes and say "I'll have a bit of this, and some of that." Hence the restaurant is called the This and That cafe.
In 2016 the restaurant received a bit of a makeover. The seating was extended to cope with the lunchtime crowds. Owner Ismail Mallu still works behind the counter dishing out the home made curries everyday.
If you'd like to explore Manchester and find places like This and That, book a food tour with us today. www.manchesterbites.com
Manchester food tours. The Eccles Cake.
On our Manchester food tours we love showing off home grown Manchester food creations. The Eccles cake is perfect for a snack or even as a desert. So here's the story of one of our favourite Manchester foods.
What is an Eccles Cake?
An eccles cake is a small butter pastry cake filled with currants and some spices. Cinnamon, nutmeg and cloves are commonly used. It's more of a pastry than a cake but we call it a cake. The Eccles cake will often be covered in sugar for that extra sweet taste. Traditionally in Eccles they would be eaten with a few slices of Lancashire cheese. They go well together you should try it.
The history of the Eccles cake
People have been scoffing down eccles cakes since the 1600's. The cakes are named after the town Eccles which is about 2 miles west of Manchester city centre.
It is believed that they were made to celebrate St Mary's day. The church of St Mary in Eccles used to hold large festivals in those times. They were called the Eccles Wakes and it was here that the Eccles cake was born.
The cakes became so popular that during the Puritan years (where basically fun was illegal) they were banned. Oliver Cromwell even brought in an act of parliament threatening imprisonment for anyone seen eating an Eccles cake.
The cake that need a health and safety warning
In more recent years the Eccles cake has come to fame for causing a rise in home kitchen fires. The Lancashire fire brigade had to warn the public not to microwave them. The sugar topping was exploding in the microwaves and causing kitchens to burn down.
One of the most famous producers of the cakes are Real Lancashire Eccles Cakes. They make the cakes here in Manchester and ship them all over the world. You can find their cakes in most supermarkets in Manchester.
Manchesterbites food tours are the best tours to explore Manchester and it's food. If you'd like to book a tour go to www.manchesterbites.com/tours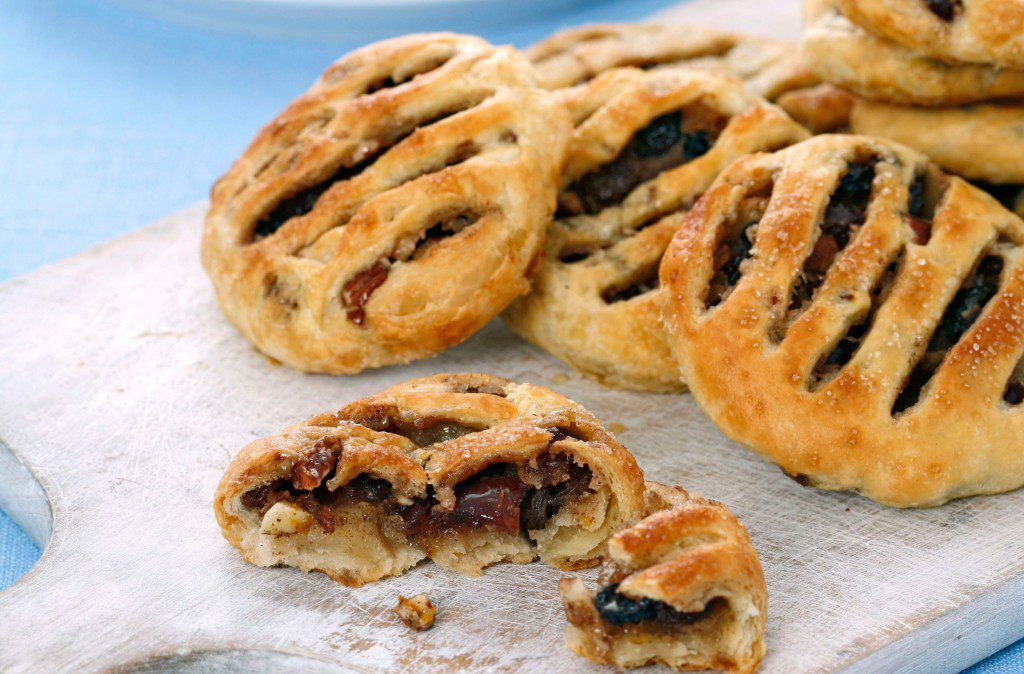 Mother of the Sea. How Manchester saved Sushi.
We like talking about Manchester inventions and those Mancunians that have changed the world. Here's a story of a Manchester food hero that dates back to the early 1900's. This might just change the way you think about sushi.
In 1901 Kathleen Drew Baker was born in Leigh. She spent her childhood learning about horticulture and gained a scholarship to study at the University of Manchester. She graduated in 1922 and began working as a lecturer at the university.
It was during her time as a lecturer and researcher that she made a crucial discovery. This discovery wasn't really to effect the food community in Manchester. But it would make a huge difference to life in Japan. Kathleen Drew Baker had discovered a way to farm seaweed. In particular the type of seaweed that is used in sushi.
Nori seaweed cultivation had almost stopped in 1950's Japan. Due to harsh monsoons and lack of seeds in Nori the Japanese were at a loss for how to farm it. Drew Baker had discovered that seashells could act as a host environment to allow the seaweed to grow.

Mother of the Sea

Once her work was shared to scientists in Japan they immediately got to work farming Nori.
Kathleen Drew Baker never visited Japan and sadly died in 1957. She had no idea how important her findings were to a country she had never even seen.
Today Japan still celebrates Kathleen. On April 14th there is a Drew festival to celebrate her life. She is affectionately known as "The Mother of the Sea." In Uto Kumamoto there is a statue dedicated to her memory.
So next time you are enjoying sushi you can remember Kathleen. Another food hero of Manchester.

Our Manchester food tours are a great way to explore Manchester. If you'd like to learn more go to www.manchesterbites.com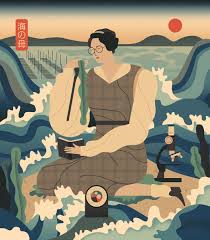 Bury black pudding. Another Manchester favourite.
If you're visiting England for the first time you will definitely have to try an English breakfast. A good, old fashioned English fry up is a must try when you're here. They are not the healthiest of things to eat. But they are perfect for a lazy Saturday morning. Especially when you're in Manchester, as we claim to be the home of one of the most important ingredients.
Another Manchester food invention

One of the best things about a fried breakfast is black pudding. There's a market town to the north of Manchester called Bury. It's here where the Black Pudding was invented in 1810. It was probably invented a lot earlier than that but that's the longest back we can trace it.
Black pudding is essentially blood sausage. It was common to use every single part of the animal back in the day. Not wanting to waste the blood, butchers created the black pudding. A mixture of pigs blood, cereals and seasonings are squeezed into pork skin. The sausage is then fried and served. It makes a perfect addition to an English breakfast. You can find different examples around the world. Morcilla in Spain and Blutwurst in Germany are both types of black pudding.
Where you can try the original Black Pudding in Manchester.

The market town of Bury is not as affluent as it used to be. It has a famous market there where you can buy black pudding. The Bury Black Pudding company is now the sole surviving business that still makes the pudding in Bury. You can visit their stall at the market. Or you can buy their puddings at major supermarkets around Manchester. If you want a really good breakfast experience we recommend here, https://www.thekoffeepot.co.uk/menus
Since the 1980's there has been a black pudding throwing competition. The event is held in Ramsbottom near Bury. Contestants have to throw 3 black puddings at a stack of Yorkshire puddings. Whoever knocks the most Yorkshire puddings down wins. If you are in Manchester on the second Saturday of September you should go and check it out.

If you're looking for a unique tour of Manchester, come and join our food tours. www.manchesterbites.com for more details
What exactly is a Manchester tart?
You have to be careful who you ask this question to. We are talking the food sense here so don't get any ideas.
A Manchester tart is a traditional English baked tart. There is the normal shortcrust pastry with a filling of jam and custard. On the top is grated coconut and some Maraschino cherry. You might also find some banana sliced under the custard. It can be a bone of contention the banana. Many people believe that a proper Manchester tart should have nothing to do with bananas.
Robinson's bakers in Failsworth near Oldham are the original bakers of the tart. It was first recorded in Victorian times.
The Manchester tart is even loved down south.
Another interesting fact about the Manchester tart occurred in world war 2. During that time it was one of the top 5 foods of children in the East End of London. We like to do our bit to help those less fortunate than ourselves.
Manchester tarts used to be a staple of school dinners back in the 70's and 80's. Sadly, those of us who suffered Manchester council's school dinner offerings have differing views as to their taste. It's fair to say that the Manchester tart you'd buy in many of our bakeries today is a much better version than those we were offered.
One such bakery is The Manchester Tart company. Based just south of the city in Whalley Range The Manchester Tart company is a mother daughter team. They like to create local recipes and specialise in tarts and pastries. We always like to give a shout out to smaller, local food businesses. You can take a look here www.themanchestertartcompany.co.uk
If you'd like to learn more about Manchester and especially the food scene, book a food tour with us. www.manchesterbites.com
We promise we won't make you eat the school dinners version.